Archives
About

Nereida
2008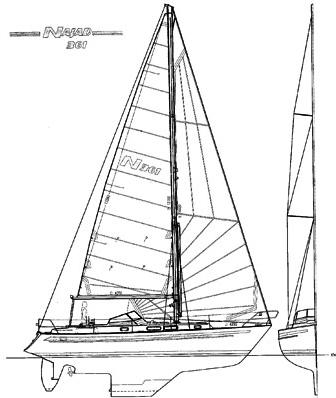 Nereida is a Najad 361, hull number 93, built in 1997 by Najadvarvet at Henan on the island of Orust in Sweden. She is named after the 'nereids' of ancient Greek mythology who were the 'handmaidens of Poseidon' (or Neptune, as the Romans called him) - so she is a 'sea nymph'! On the sea-front at Puerto Vallarta is a lovely bronze of Nereida and Poseidon - shown as mermaid and merman.
LOA

- 11.2m (36'9")

LWL

- 9.25m (30'4")

Beam

- 3.50m (11'6")

Draft

- 2.0m (6'6")

Displacement

(empty!) - 8.0 ton (8000 kg)

Bolted lead keel

- 3.2 ton (3200 kg)

Hull speed

- 7.8 kts

Mast height

- 14.25m (46'9")

Mast height above waterline

- 16.0m (52'6")

Sail plan

- Sloop, with removable inner forestay for optional cutter rig

Sails

(sq m /sq ft)

Main

32/344

Furling Genoa

41.5/447

Cruising chute

83/893

Storm jib

12/129

Engine

- Volvo Penta MD22L, 48hp (35.5 kW)
Equipment
Ground Tackle
20 kg. Bruce
35 lb Delta
FX-23 Fortress
12 kg Grapnel (kedge: 5m chain, 30m warp)
Chain - 100m + 30m hitest 8mm (5/16")
Warp -50m 16mm nylon multiplait
Water and Diesel
Water tank - 350 ltrs (77 gals)
Water maker (desalination) - Spectra 12v system with 2 pumps
Diesel: tanks 200 + 100 liters (44 + 22 gals);additional 120 liters (26 gals) in containers
Power Generation
Solar panels - 2 Siemens 12v 55W and 2 Siemens 12V 80W
Wind generator - KISS (Trinidad)
Electrical supplies - 12v DC: 240v 4kVA 50Hz AC Fischer-Panda diesel generator
Balmar 110 amp secondary alternator on engine
Electronics and Software
Weather data receivers - Weatherfax via HF to computer, also NASA Marine Navtex
Inmarsat C (GMDSS) transceiver - Thrane & Thrane TT3022D
VHF radio - Simrad RS82 2-position (25/1W masthead); ICOM IC-MIV (handheld)
HF/SSB radio - ICOM 710M
Modem - SCS Pactor PTC-IIe (e-mail, weatherfax) for Airmail 2000 software (Winlink)
Forward looking sonar - Echopilot
A.I.S. - Milltech Marine to laptop via smart splitter on VHF aerial, also Nasa Marine stand-alone display.
Radar - Raymarine 18" radome scanner
Autopilot - Raymarine Linear Drive Type 2 acting on quadrant, S3G course computer with ST6002 control head
Instruments - Raymarine ST60+ wind, speed/log, depth, ST50 GPS display, remote handheld controls.
GPS - Raymarine Raystar125 dGPS sensor plus 2 Garmin 48 handhelds
EPIRB - ACR
CD player/Radio (LW/MW/AF), Jensen
Charting - Nobeltec Admiral version 9.0 using electronic world charts on CDs; Raymarine C70 combined radar/plotter with Navionics Gold cards; Garmin plotter with Bluechart cards. Also backup paper charts.
Miscellaneous
Windlass - Lofrans Airon (electric)
Liferaft - Avon Modula 4 man
Tender - Zodiac 310 (inflatable floor)
Heating - Eberspacher 8 kW, (diesel) circulated hot air
Refrigerator - Danfoss compressor - 110 ltrs capacity
Sextant & tables - yes
Tiller pilot - Navico, capable of driving Windpilot (windvane)
Wind Steering - Windpilot Pacific Plus, servo-pendulum windvane driving auxiliary rudder
Propeller - 3-bladed, automatic variable pitch - Autoprop (Bruntons UK)
Ropestripper (Ambassador Marine) - rope cutter forward of propeller on propshaft
Andersen winches: 2 46ST & 4 28ST in cockpit; 2 12ST & reefing winch on mast
Sponsors Supporting my Nonstop Circumnavigation 2012-2013
Companies donating services and equipment
I'd also like to thank the following companies for their support which has been very much appreciated: