Monday 9 February 2015 - La Cruz de Huanacaxtle
A good visit to London for the January Boat Show where I gave two well-attended presentations on my sailing and saw several people about technical problems and replacement parts, with very helpful outcomes. It was nice to meet up unexpectedly with good friends visiting the Show… and good fun 'riding' a Honda race bike on the new Show's sponsors' stand (CWMFX):
Before leaving for London, I had prepared 'Nereida' for my planned passage by tidying and stowing things away, as well as checking the engine and generator ….neither of which wanted to start! Alejandro had come by that weekend to remove old impellor bits from the entry to the heat exchanger - even more bits were there than I'd expected, so that was a good job done.
While I was in London, Jesus and Salvador saw to the two engines - and reported the start problem in both cases was due to corrosion which they were able to deal with fairly easily - but corrosion in several other areas on wiring and connectors was something I would need to check over on my return.
Back to Phoenix from LHR and then a drive on to Ajo with friends Ed and Charlene to get some sleep before crossing border into Mexico... Up with the sun, hoping to arrive San Carlos mid-afternoon, but Mexican Customs wanted to charge an inflated amount of tax for their replacement ship's motor so we returned to Ajo to leave the motor behind and retraced our route through Arizona's fascinating 'Organ Pipe Cactus' National Park to the border and beyond, with some dramatic mountains just south of the border: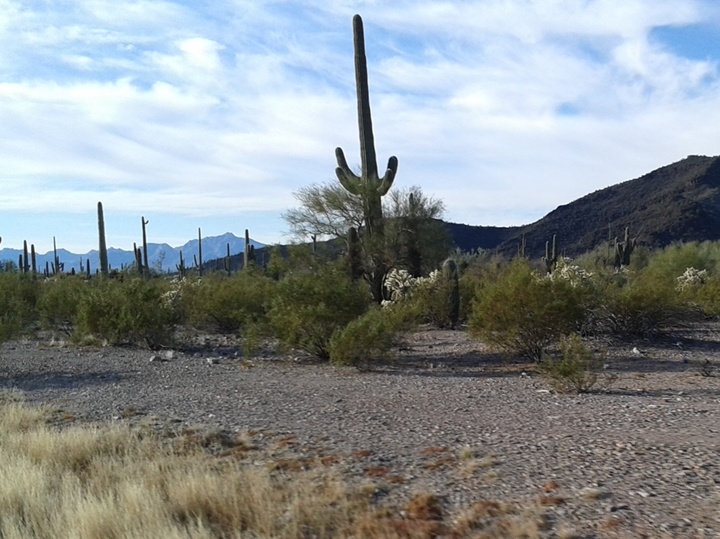 We arrived well after dark, just in time to get fresh provisions at Santa Rosa's and then a meal at "L'Esquina" before making for the marina to get ready for leaving at High Water, soon after midnight. It was essential to leave by 2 a.m., to be sure of getting out safely with Nereida's nearly 7ft draft, but there was a distinct lack of lit channel markers out from the marina entrance through Bahia San Carlos and the night was pitch dark with overcast skies, so it was nice to have Charlene's extra pair of eyes to keep a look out ... Even so, we only just missed some new, unlit pilings where an extension to the present docks is being built out into the Bahia.
It was a relief finally to make clear water, having avoided both the shallows to starboard and some dark islands and rocks to port on our way out... There was no wind so we were motoring and once further out into the Sea of Cortez (a.k.a. Gulf of California) there was a distinctly uncomfortable short swell which frequently made us roll about over the next two windless days.
Charlene was keeping me company for the 4-5 day nonstop sail south which meant we could keep a good watch overnight for the expected fishing boats and ferries en route. In the event, almost none were seen but it was a nice trip down, with lovely clear starry skies at night and the seas slowly lessening. We got very excited on seeing a pair of whales close by and lots of dolphins and seabirds another time. This area is well-known for its marine life.
The tides had quite an effect on our speed which ranged from 4.7kt to 6.3kt. Up in the far N of the Sea of Cortez, the tidal range is 20ft or so, with currents of up to 11 kt in some inter-island passages, but as we headed further S the tidal effect lessened. On the last day, some wind arrived as we approached the islands of 'Las Marias'. so we finally had a nice peaceful sail into the night, with a beautiful sunrise over Banderas Bay as we got close to the small rocky Marietta islands in the entrance.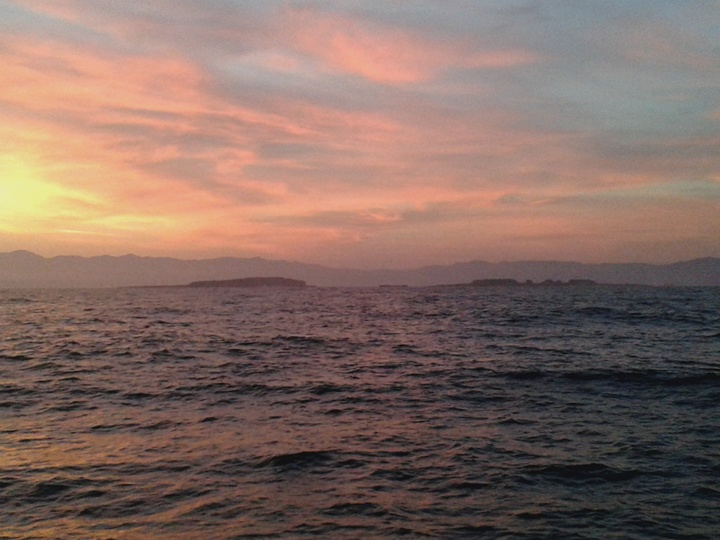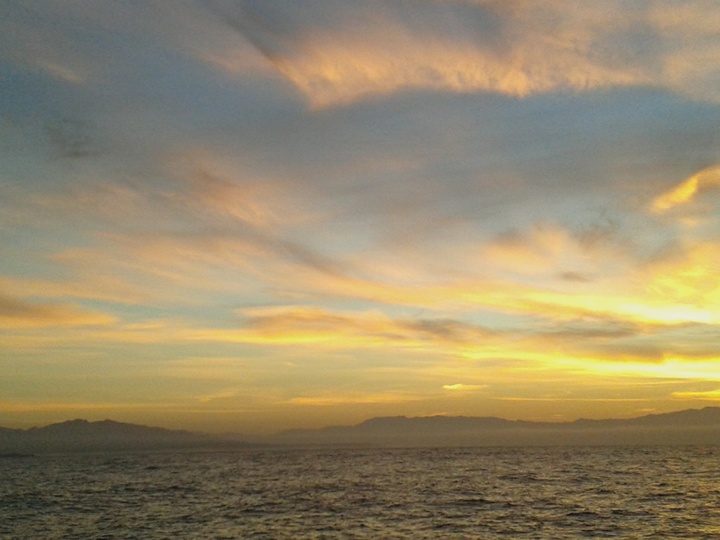 We made La Cruz de Juanacaxtle early on 28th January and soon met up with Canadian friends Maggie and Tom, who had flown in to Puerto Vallarta the day before to cruise with me on 'Nereida' for a time. It's been a very nice change to have company on board! Being boat-owners themselves, Tom and Maggie have helped me with several boat jobs, one being replacement of the corroded antenna lead to my backstay in an effort to resolve an urgent on-going problem: the HF/SSB radio has totally lost transmission power.
A ham friend, Don N7BD, has kindly sent me a Watt meter to instal in the system and Dan of 'Dazzler' came over with a long coax lead to test the connection directly between my radio and the tuner - the radio transmission was booming out...! Conclusion? ...Corrosion in one or more of my coax connector(s)?
(Today I had a lot more help from Eric, from s/v 'Scoots', using my new SWR/Watt meter with a dummy load and checking all connections. There seems to be a ground problem to the tuner – sometimes it tunes, sometimes not - and I spent all afternoon removing cables, a shelf and lots of other items around the radio, to gain access to what seems to be the possible faulty connection. "Work in progress...!" Postscript on Friday 13th Feb: All now working fine, with more much-appreciated help from Eric. Turned into a bad ground connection in two places, a cable and the tuner connection, both now dealt with - so I can now make good radio contact, although the Marina causes a lot of noise. Winlink is now also working fine, using the new Pactor 4 'Dragon' modem and a bluetooth connection - so we're back in action...Making use of the new SWR meter - Many thanks to Don, N7BD. If I hadn't gone down with a bad cold, with loss of voice and a sore throat over the last few days, all would be good - but recovery must take place soon and I've been getting lots of sleep to help things along)
With Maggie and Tom, we sailed over to Yelapa last Wednesday, on the opposite side of Banderas Bay from La Cruz... What a delightful village! It has only had electricity for two years now and its steep, cobbled, narrow, winding streets cannot take any cars. Not surprisingly, there's a lot of building work going on by N. Americans, renovating dilapidated old village houses to use over the winter period when it's cold and icy back north where they live! We walked up to where a high waterfall tumbles over a steep cliff into a pool, surrounded by high trees on the edge of the village - a beautiful green spot. The busy coast road passes quite a distance away, at the end of a steep path, so the main approach is by sea.
Lots of tourist 'pangas' bring people for the day from elsewhere in Banderas Bay to enjoy a long sandy beach opposite the village at the river entrance in the bay. We picked up a mooring buoy in 50m/160ft depth of water close inshore - anchoring here is difficult with the sea-bed dropping away so steeply and small fishing boats moored in the small area of shallower water close to the main village. The weather was fairly calm but the small bay in which the village lies is open to big swells when the wind gets up. We had an enjoyable two nights there and I vowed I'd return soon. On the way back to La Cruz, we had good sightings of several pairs of whales (a couple breached) as well as dolphins and a turtle, in addition to the usual frigate birds, boobies, gulls and pelicans.
Now I'm alone again, it's back to boatwork in the daytime - but there's plenty of excellent live music of an evening here in La Cruz. Sunday evening was spent with friends Robert and Rose of 'Tillicum' at the 'Black Forest' restaurant - with fabulous classical guitar-playing by 'Lobo' during the entire evening. There are several good places to eat here and I keep meeting up with cruiser friends last seen in San Carlos. The weather is mostly dry and sunny, with just the occasional heavy rainstorm - as we had early last week.... So I'm looking forward to a nice mix of productive daytime work and plenty of evening music over the next few weeks here.