Happy New Year! A belated update ...
It's taken a while for me to get around to writing this - so much to do, including travelling north to retrieve some boat items I need now. I'm presently docked at the very friendly Southwestern YC in San Diego, getting generator repairs done, hoping to leave reasonably soon to head down to Mexico to get on with a few more minor jobs.... (It's rare to find a boat without a list of boat jobs, however small, waiting to be done - there's always something waiting to be fixed...!)
~~~~~~~~~~~~~~~~~~~~~~~~~********************~~~~~~~~~~~~~~~~~~~~~~~~********************~~~~~~~~~~~~~~~~~~~~~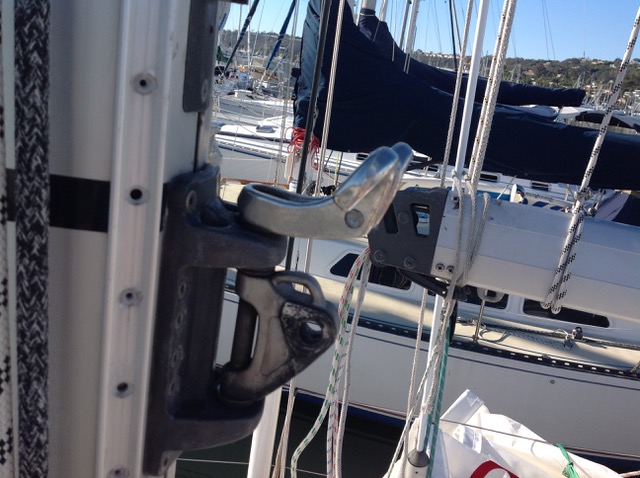 30Nov Boom was removed from mast so gooseneck connecting mast to boom, along with the boom end itelf, could be taken away for repair.
2 December 2016 ·
Lashing did a good job, holding genoa foot down after snapshackle pin disappeared... Rusty pin or spring ...or bad SS ring..? Old shackle now removed and new 'D' shackle bought to replace it.
Gooseneck and boom end metal parts now well done by Steve but he queried state of plastic sheaves inside boom end - considering what to do about it... Think I have a set of new ones somewhere on board ....!
BTW, in answer to queries on possibility of re-starting nonstop RTW attempt from San Diego .... Apart from lateness in season to head S to Cape Horn and around Sthn Ocean (since would likely be May when rounding N.Z.), San Diego start would require an added WP for extra miles to be added: WSSR rule 26.1.a states: "To sail around the World, a vessel must start from and return to the same point, must cross all meridians of longitude and must cross the Equator. It may cross some but not all meridians more than once (i.e. two roundings of Antarctica do not count). The shortest orthodromic track of the vessel must be at least 21,600 nautical miles in length calculated based on a 'perfect sphere'. In calculating this distance, it is to be assumed that the vessel will sail around Antarctica in latitude 63 degrees south. A vessel starting from any point where the direct orthodromic distance is too short (e.g. San Diego) shall pass one single island or other fixed point on a required side so as to lengthen the orthodromic track to the minimum distance".
Saturday 3rd Dec: Racing in Hot Rum Regatta Enjoyed racing on 'Echo' with several excellent young sailors and their parents...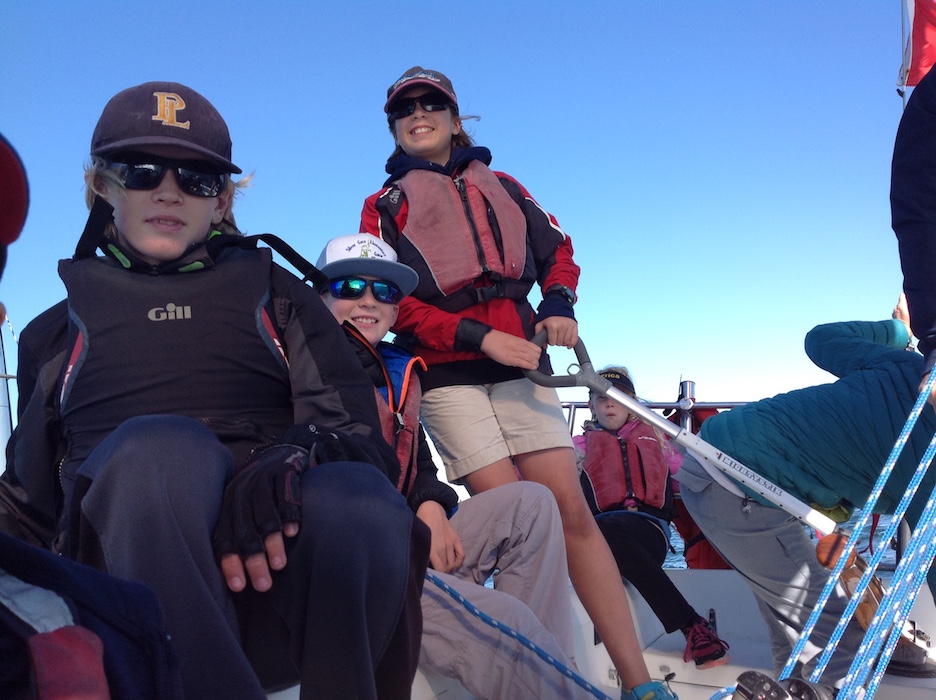 Alice helmed most of the race, others tended sheets and helped with spinnaker hoist and dousing & her brother and friend did a good job trimming the spinnaker in often gusty conditions.
All of the crew did excellent work - their parents must be very proud of them!
4Dec Christmas Party time at San Diego Y.C.....
The snow doesn't last long ... but long enough for these lucky kids to get in some tobogganing fun.
6-8 Dec I was invited to attend CCA Christmas Dinner at St Frances Y.C. in San Francisco on evening of Wednesday 7th Dec, so took Greyhound bus from San Diego there and back. On way to L.A, bus pulled in to the Santa Ana bus and railroad terminal ...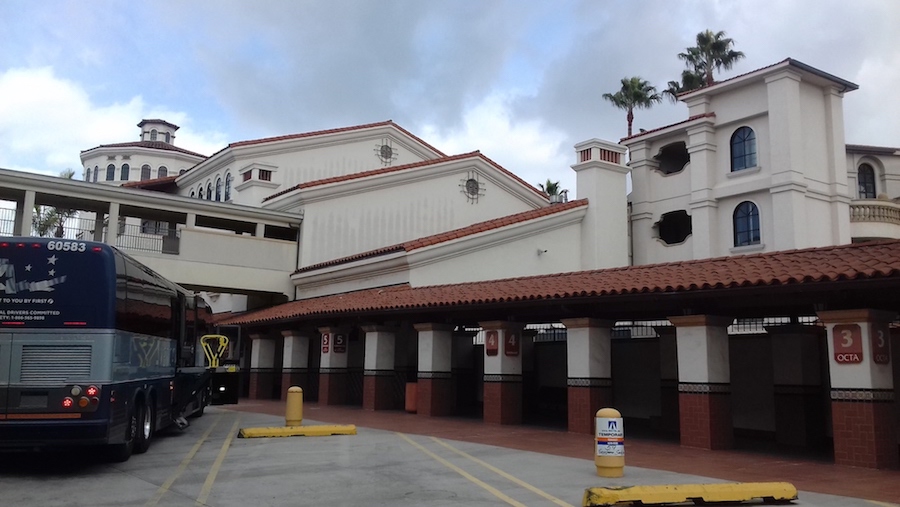 A lovely mission-style building. I was lucky - just made the onward bus connection in L.A. (first bus left over one hour later than scheduled). Bob and Kristi Hanelt were my very welcoming hosts in Oakland Hills - many thanks for an enjoyable stay - and plenty of 'cruiser chat'!
Thursday Dec 8 Back to SD to get on with boat jobs. Interesting countryside, passing Pyramid Lake well N of L.A. - a large reservoir high up in arid mountains.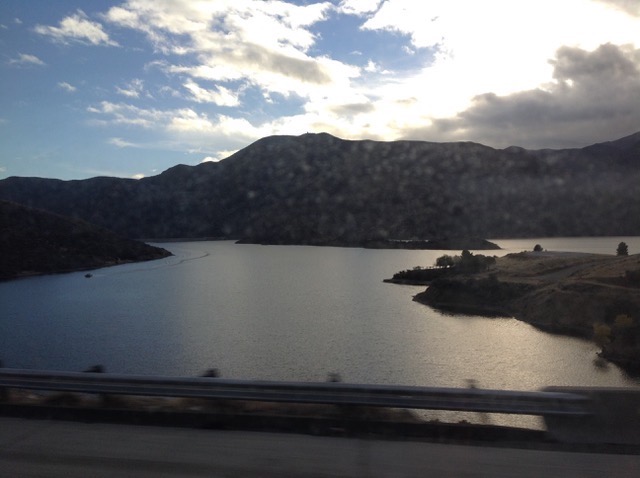 Friday 9Dec New generator part had arrived - here are new and old exhaust parts side by side... Notice difference in size of new design and old...
And water pipe connections are different, causing a problem in replacing and connecting up the new part... Caused a long delay in fitting....
Thanks to Rowena Carlson who invited me for a good time spent with SSSS group at house near Y.C. overlooking the Bay at their Christmas party and Annual Awards evening... (SSSS = Sexy Sabots Sailing Set! - was originally only women) .... Naples Sabots are the 8ft S. Californian junior sail-training equivalent of the beginner Optimist dinghies - mainsail only but with a leeboard on the starboard side instead of a central daggerboard. More difficult to sail... "A bit quirky," I was told, so people who master them become good sailors!
14-28th Dec - flew to Vancouver to organise sending aft cabin cushions etc down to San Diego, retrieve some smaller items (clothing etc) from storage at R.V.Y.C. and spend Christmas with friends. Had good snowfalls while there! A White Christmas...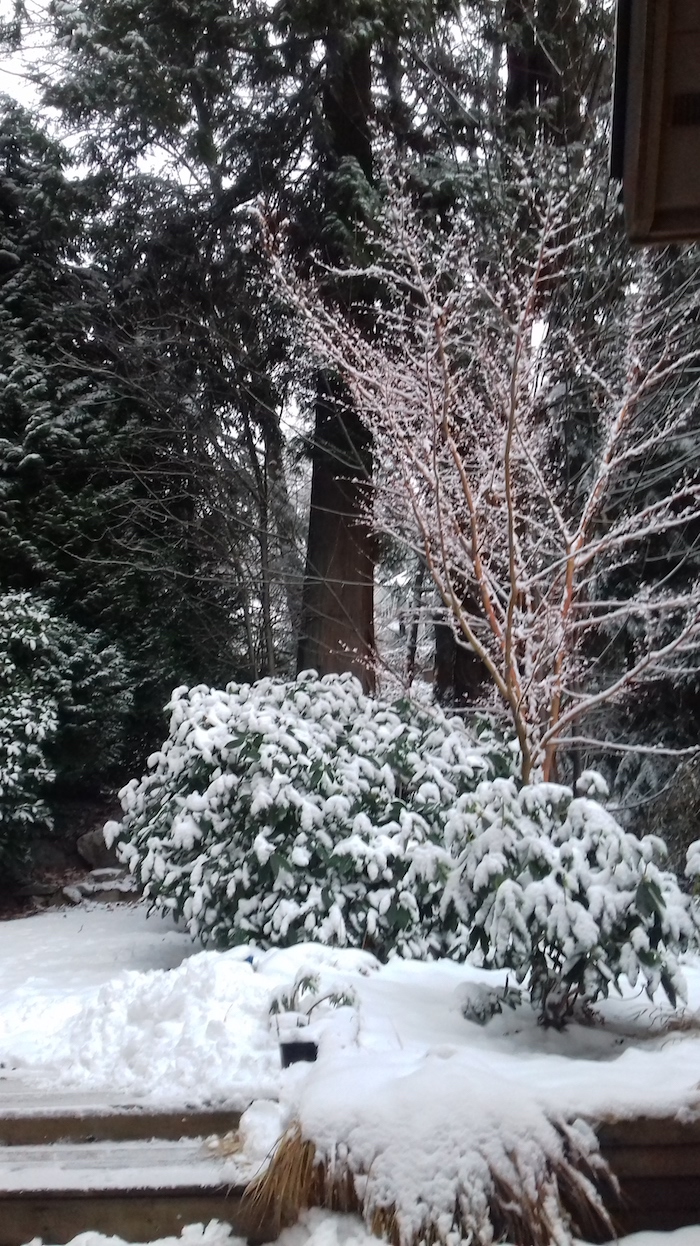 Sunday18Dec - Cold trip over to Tsawwassen from Gibsons to Victoria, close to Cadboro Bay. Car - ferry - bus - train - bus - ferry - bus - bus - walk ..... Took from 10 am to 5.30pm but all worked out fine and went according to plan - very little stress! Almost no snow here... Enjoyable Wassail at RVYC in the evening…
Then over to Anacortes on Tuesday 20Dec - windy but lovely ferry trip through San Juan Islands. Great to be a totally relaxed passenger... just enjoying the scenery! Aft cabin cushions and cockpit table now on their way to San Diego from Anacortes - many thanks to Vince at Ullman Sails Anacortes and Chuck in SD. Suitcase with clothes and other smaller items were retrieved from Royal Victoria Y.C. on Monday and will come with me on flight back to 'Nereida' in SD later next week. Friend Jeff has loaned an inflatable kayak in place of dinghy and outboard so I can get onshore when at anchor in Mexico, if needed.
Back to Gibsons via Coastal Celebration ferry from Swartz Bay on Wednesday - was shown around bridge of same boat on way over last Sunday - rather different from 'Nereida'! Visited friends in Sidney for lunch in between ferries - an amazing job Charles has done in constructing a steel boat in his back yard - all his own work!!
25Dec Nice to spend Christmas in beautiful B. C. with good friends...! Happy holidays to one and all!
29Dec Back on board after flights from Vancouver and Phoenix. Nice to see radio friend Sid, K7SID, & wife Carol in Phoenix. Felt warm here in San Diego! (But gets cold overnight...)
Bad news on generator while I was away - it's seized and almost certainly needs re-building.... Sounds expensive, despite only one cylinder...
Friday 30 December 2016 Many thanks to San Diego Y.C. for their generosity regarding moorage costs while here. Aft cabin cushions and cockpit table arrived today from Ullman's loft in Anacortes - thanks to Chuck for his suggestion, to Vince for packing and dispatching... and to Niall for unpacking and bringing to the boat from the loft here in San Diego.
We might have problems - but people are generally kind and helpful.... Needed to find another berth for 'Nereida' from Tuesday since, despite SDYC's much-appreciated generosity until end of December, the slip we've been on was taken from then. Walked over to Southwestern Y.C. - was immediately made welcome by Mark and berth assigned from Tuesday - so that problem was resolved (while waiting for genset problem to be finished with...) Thanks to SWYC members Susan and Richard for their kind welcome - and a great Irish coffee!! Can't achieve anything further now on genset front until Tuesday,... so will put it to one side and enjoy a quiet, relaxed New Year - maybe get some reading, writing and walking done....
2 January Trying to sort a few jobs: genset repair, new mast-top Windex, LED light strips in two places, tidying/organising aft & main cabins...... & must move boat to new berth tomorrow. And that's just today's thinking....there are lots more items I've not listed here...! I've had whipping of line and sheet ends on my list for ages, especially after renewing several recently, so was nice to have rigger Mark expertly whip the ends of several for me - far more quickly than I could have done. That was after he'd moved the position of the rod-kicker (vang), making fresh screw holes in boom, avoiding old badly elongated ones which can't have helped the gooseneck problem. Just have to attach reef lines now, when not rainy or windy from wrong direction. (It has been raining a lot - bucketed down on New Year's Eve!)
4th January Coffee and doughnut at Downwind Marine - a Wed morning 'tradition'.... Then Evan brought me back over and replaced the Windex at the mast top - saved me a trip up to struggle with removing old one and also it needed a couple of bends made in the metal rod so as to give it good clearance - not so easy to do. Nice to see it working.
Got estimate to rebuild the genset yesterday ..... A mere $5133 ......! That's a lot of money..... (New one is twice that) People here at South Western Y.C. are very friendly - was taken by Amagele for fresh fruit and veg shopping yesterday and Frank would have done the same if A. hadn't made her offer first! Thanks to both.... Low cloud and fine drizzle today - totally unlike the blue sky of yesterday! Parts are all available for generator rebuild but present motor has been replaced with 'low-emissions' upgrade so new one might not be useable as is - Kubota US are looking into that for me. Doubt that a reliable 12V rebuilt version is lying around anywhere and labour to pull old out one and replace it is way more than for rebuilding in situ. Good mechanic here - trustworthy and does excellent work - came very well recommended. 'Nereida' probably won't be ready to leave before February. Debating how best to spend time over 2-3 weeks while waiting for parts to arrive after motor stripped down ... frustrating!
In the meantime, it's great to have regular Internet access - keeping tabs on the Vendee Globe race is a daily necessity ... Go, Alex, GO!!!