Nereida's Long Voyages

Jeanne's last nonstop, single-handed, unassisted circumnavigation from 3rd October 2018 to 7th September 2019 made her the oldest person to sail nonstop solo around the world south of all Five Great Capes.
These are the three 'named' Great Capes (Cape Horn, Cape of Good Hope, Cape Leeuwin) together with the S.E. Cape of Tasmania and the S. Cape of New Zealand (on Stewart Island).
The map below shows the original Shiptrak record of Jeanne's solo passages prior to her successful solo nonstop voyage of 2012-13, including voyages between points in Alaska, Canada, USA and Mexico, as well as out to Hawaii in the Single-Handed TransPac Race of 2006.
The map also shows her first long solo voyage in the new Nereida, 2009-2010, from the UK, south to Africa and then east-about to NW America - a distance of 15,000 n.ml.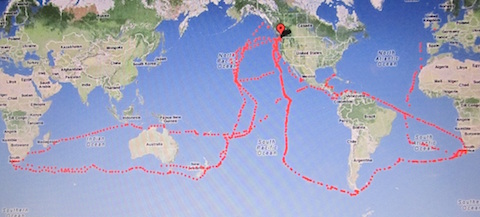 Other solo circumnavigations: 9th March 2010 - 11th May 2011 and a first successful nonstop unassisted attempt 22nd October 2012 - 8th July 2013.
I finally succeeded in completing a single-handed circumnavigation in one attempt by 'closing the circle' on 6th May 2011 when I crossed my 2009 southbound path to Cape Town from the Canaries. I'd left Cape Town in March 2010 and sailed eastabout, past Cape Leeuwin to N.Z., on north to U.S.A. & Canada, south to Cape Horn and finally east to Cape Town across the S. Ocean/S. Atlantic from the Falklands.
This was almost a 'circumnavigation by default' since my main aim, since 2009, had been to circumnavigate single-handed NONstop.
My first nonstop attempt had started on 10th October 2009 when I sailed off the dock at Puerto Calero in Lanzarote (Canaries) to head to the S. Atlantic. I had expected this to be totally different from my previous (first) circumnavigation (2007-2008) since it was to be in the new Nereida (Najad 380) going the opposite way around the globe, leaving the Canaries as the Southern winter was finishing. I expected to be sailing non-stop for about 7 months, my journey taking me around the Five Great Capes - which, of course, include Cape Horn!
I knew it would be quite a challenge - but with so many unexpected repairs needed as I approached S. Africa, over and above those I'd already dealt with while underway, I had to make the difficult decision to stop in Cape Town (after 61 days from Lanzarote under sail alone) to get repairs done, before continuing on further into the Southern Ocean.
The hoped-for 2-3 day stop became three months when it transpired that a replacement engine was necessary - and that put paid to my hopes of continuing on to Cape Horn since it would have been mid-winter as I was rounding the Cape, so the 'season' had closed. Finally getting away on 9th March 2010, and having formally entered the 2010 Single-Handed TransPac Race (which meant I needed to get to the Start Line in San Francisco by June), I continued on nonstop to Nelson, in South Island, New Zealand (62 days), with some stormy weather S of Australia on the approach to the Bass Strait.
More stormy weather followed when I left New Zealand early in June (their winter!) to head north nonstop (36 days) to Hawaii. (I nearly missed making landfall there, due to the strong west-flowing Equatorial Current and finding myself not as far enough to the east as I would have liked so as to be ready for the NE Trades south of Hawaii). It had become quite clear that I was not going to make the SHTP Race but I paused on Kauai to meet up with the racers as the last of them finished, before heading north - a slow trip due to the N. Pacific High being very extensive and moving north with me as I tried to sail north.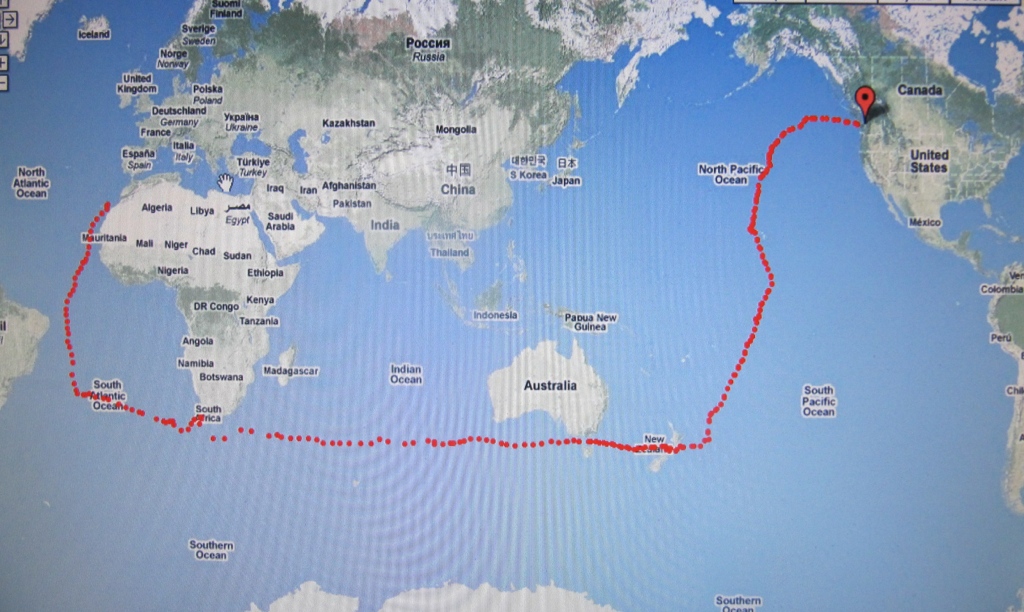 I finally made Port Townsend in the 'Pacific North West' (of the U.S.) and British Columbia (Canada), in August, where my plan was to deal with all outstanding repairs and make final preparations before re-starting my RTW nonstop attempt from Victoria, B.C. - which I did on 25th October 2010. This time, I would have on board a small 'black box' from the WSSRC (World Sailing Speed Record Council) who were to validate my attempt.
I headed out into the Strait of Juan de Fuca, to find myself a day later struggling with little wind, strong tides and plenty of shipping.... with no motoring permitted! When I eventually got offshore from Cape Flattery, I was met by strong winds - for several days, we had headwinds from the SW, making for a slow, rough passage south. I was lucky when negotiating the ITCZ, managing to avoid the worst of the bad convection and, on heading south from there, the sailing was often very pleasant, with the main problem being a lack of wind at times and the S. Pacific High being west of its usual position, requiring my route to be less direct towards the Horn than expected.
The challenge of my previous passages in the Southern Ocean - to S. Africa and on to Tasmania and New Zealand - turned out to be a useful preparation for this second RTW nonstop attempt. It's so very much tougher, and the weather patterns are so totally different, from downwind sailing in the Tropics which has just the occasional squall as the main challenge there. I had hoped to achieve my goal this second time around, but I was knocked down on 5th January 2011, while lying hove-to well west of Cape Horn, waiting for some bad weather to pass before reaching the continental shelf on which the Cape lies - so that put paid to my second nonstop attempt.
I was quite devastated but, by a stroke of luck, personally uninjured although the boat suffered major damage: broken boom, sprayhood totally torn away, windscreen windows smashed to smithereens, seawater ingress & general chaos down below, washboard broken in half, carbon pole broken, staysail furler broken (I had to lower the sail to the deck and tie it down in the stormy conditions to avoid losing the rig, the sail was flogging so badly in the strong wind.) The good news was that I was able to get most of my instruments working again, my HF radio, laptop and motor were undamaged and the genoa was intact, so I was eventually able to sail around Cape Horn and motor on to Ushuaia.
After a bit of a nightmare in Ushuaia, trying to figure out how I could possibly repair/replace things in a very cold, very windy place, totally lacking in yachting facilities, I was finally ready to sail away two months later - on 13th March - with a new boom, sprayhood, staysail furler etc, all of which had to be sent in from Sweden with great difficulty. The weather was deteriorating as summer came to an end, so I headed NE to the Falklands (very British!), where my departure was delayed several days due to strong winds, and then on NE, trying to avoid the frequent deep depressions coming off the S. American coast giving strong conditions which made me heave to a couple of times and lie to the Jordan series drogue for several days. After that, I was able to head east towards Cape Town, stopping briefly by the bird-paradise of rugged Gough Island on the way, but was headed by SE winds as I got close, causing further delay - just as had happened on my approach to the Cape just over a year earlier!
Landfall on Wednesday 11th May was duly celebrated..... a successful round-the-world completion - at last!
The map shows that RTW route from Cape Town to Cape Town: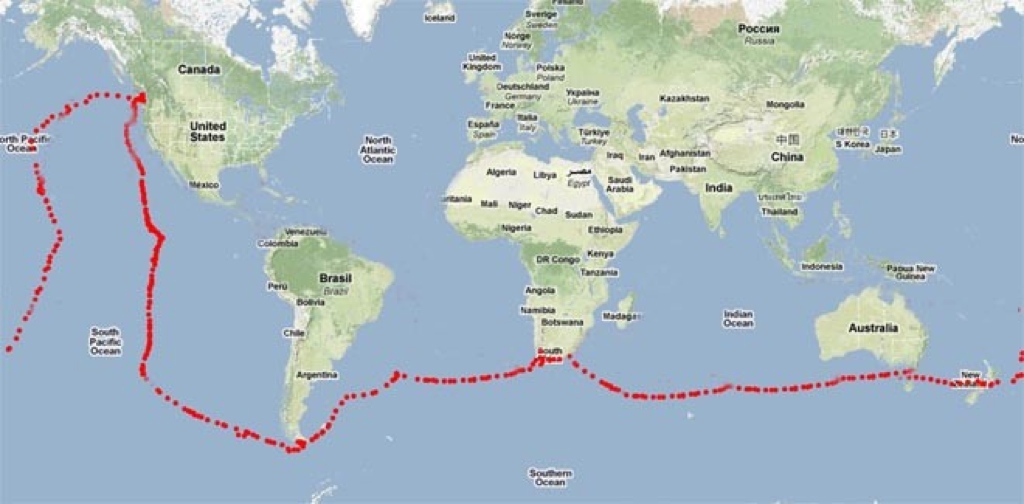 While in Cape Town and Simon's Town, where I had been dealing with various repairs and boat projects over the Southern winter months, I received an invitation from the Queen and Prince Philip to a Reception in December at Buckingham Palace - for "Adventurers and Explorers"! That was an amazing experience, to be followed early in January with the unexpected award of the Cruising Association's 'Duchess of Kent Trophy", handed over by Sir Robin Knox-Johnston.
Soon after my return to S. Africa, I made for Hobart, with some rough weather on the way, but rounded the SE Cape of Tasmania and made landfall just in time to avoid a major Southern Ocean storm. I'd decided in Cape Town to try to complete a rounding of all five major Southern Ocean Capes before heading north to re-start my next nonstop solo attempt, so I soon set off again - this time to head across the Tasman Sea to round Stewart Island, off the South Island of New Zealand - I managed to keep up a good speed, avoiding a nasty depression that was chasing me! The albatrosses around Stewart Island, like those S of Tasmania, were beautiful to watch.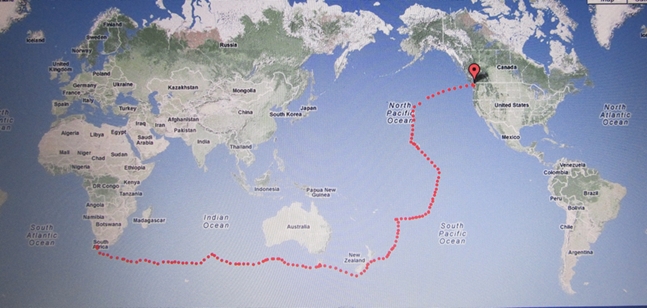 However, with weather getting bad, it was a difficult, stormy passage up past and beyond New Zealand, as I tried to make Tahiti for further repairs. Then on to Hawaii for more work before making for Victoria around the N. Pacific High Pressure area - arriving with a fabulous fast sail through the Strait of Juan de Fuca to round Race Rock and then on in lesser wind to finish in Victoria on 1st August 2012.
Preparations were intensive over the next couple of months, in readiness for leaving on my third nonstop attempt in October - surely this time it would be successful?? Unlike the previous start, I had a great sail out through the Strait into the Pacific - and even spotted a Black-footed albatross soon after exiting! Things were fine - until my life-raft decided to part company. I contacted John Reed, Secretary to the World Sailing Speed Record Council to ask if I could replace it in San Francisco - 'Yes" - so long as I kept strictly to the 'unassisted' rules: I had to fix it and do everything myself, without help or anyone coming onboard. That went fine although getting SE and into the Bay in unhelpful winds and current and then picking up a buoy under sail alone got 'interesting' in the rain and darkness around midnight!
Problems galore of all kinds kept me occupied as I headed on S, although the ITCZ was negotiated nicely, by dodging 'convection' areas showing up on the satpics downloaded from Honolulu. A shroud came loose - and was fortunately fixed, a trip up the mast was undertaken to try to fix the wind instrument, we heaved to several times in rough weather... and all well before Cape Horn -which was rounded close to the date of the bad knockdown of my previous rounding - I couldn't celebrate this time until I was sure I was safely around...
The Vendée Globe racers were also rounding the Horn not too far away - friends kept me posted with their positions and Mike Golding's team put me in touch with the Race Management team in Paris, who kindly sent me the daily Ice Reports they sent to the racers - there were several large icebergs and lots of nearby 'bergie bits' in the area to avoid... On across the Atlantic - a good crossing this time, with plenty of birds for company, and on past S. Africa and into the S. Indian Ocean . There were lots of calms in between stronger weather. There were also lots of radio contacts by now, to keep me company - S. Africa, Australia, New Zealand, U.S.A. .. plenty of talking! There was the usual stormy weather in the Great Australian Bight and we got a bit of a knockdown well WSW of Tasmania overnight - radar knocked askew, so useless to me although still working, and wind generator trashed after coming off its pole. The next morning, the wind steering rudder came away - a retaining pin clearly broken in the same impact.
Luckily, my planned stop in the D'Entrecasteaux Channel of Tasmania turned out not to be needed - one morning, the sea was calm and I quickly managed to get the windsteering rudder back on - so avoiding an electric power problem, since windsteering uses no battery power! To avoid strong headwinds forecast nearby and likely stormy conditions to the East of N.Z., I decided to head up the Tasman Sea. It seemed like a good, sensible decision at the time but lead to no end of problems heading north past a myriad of atolls, islands, reefs and seamounts in unhelpful weather, passing west of Fiji (a developing Tropical Storm having made me head more N than originally intended) and on up to pass through the Hawaiian Island Chain...
If I could have picked up Nereida and placed us 200-300 miles further E, it would have been a lot better - but we were constantly being headed or becalmed as I tried to keep heading NNE... Eventually, we made it, of course, and I got very excited one day to be greeted by a Canadian Coast Watch plane that circled around and spoke to me over VHF. But even at the end, Fate was laughing at us - becalmed in fog off the Juan de Fuca Strait as cruise ships passed close by and thick fog overnight. Making a short distance the next day, only to be becalmed again overnight between shore and shipping lanes, at the mercy of the tide, drifting backward! I was awake at the chart table or wheel all night. Finally, over the afternoon of Sunday 7th July, it looked as though we'd make it - a good sail to Race Rock - but a dying wind again, as I came around and headed north towards Victoria... A glorious sunset as I was greeted by friends in boats that came out from the harbour - but 0.0kt registered as darkness fell - becalmed again...unbelievable!
Near midnight, a slight breeze had come up- just enough for us to drift oh-so-very-slowly towards the bright lights of Victoria. not so very far away "Keep to the W, or the current will take you - and you'll miss the harbour entrance..." came the advice over the VHF... Patience, patience... It was great finally to drift over the Finish Line from Ogden Pt... Big cheers from the boats and breakwater end - where a group were enthusiastically waving light sticks and flags - despite it being almost 2.30am - a lovely reception! Two came on board... mainsail was lowered... I just sat there, grinning with delight, sipping champagne handed to me from the 'Prince of Whales' tow boat which was gently taking me to a berth in front of the Empress Hotel - We'd made it!!! On 8th July 2013... after almost 260 days at sea and well over 25,700 miles.
My First Solo Circumnavigation (Westabout) from 26th March 2007 to 19th June 2008 (completed 3rd June 2016!)
One major reason for wanting to do a solo circumnavigation was definitely the challenge of all that it involves. I enjoy being at sea, as well as meeting people & seeing places on shore, but time doesn't stand still (& bodies don't get younger!) so I felt that it was the right time for me to 'sail around the world' in a reasonably short time, as a sailing challenge, rather as the sailors of olden times did, rather than continuing my previous slow cruising & taking a lot more years to get around (that could always come later). I became quite excited at the prospect of it all ... In the back of my mind also was the thought of several good friends who had recently either succumbed to cancer or been diagnosed with it.... Maybe they'd be able to see through my eyes and enjoy the sailing through me?
Preparing Nereida in San Diego early in 2007 took quite a time, but I finally sailed down to Ensenada mid-February to complete Mexican check-in formalities and then headed towards Zihuatanejo - where their Guitar Festival finished 18th March. By the end of March, I was well on my way to the Marquesas after fresh food provisioning from the local market.
In planning my route, I had to avoid the cyclone season in the southern hemisphere - November/December to March/April - so arrival in S. Africa by mid-November became paramount. Clearly, weather is always a major concern and any planning has to be flexible - but with good weather information (via SSB & VHF radio and onboard barometer), I expected to have sufficient advance warning of possible problems to stay safe.
Having left Zihuatanejo on Monday 26th March 2007, my route took me through the S. Pacific: Marquesas (arrived April 19th) - Rangiroa (Tuamotus) - Tahiti- Moorea - Bora Bora - Niue - Tonga - Fiji - Vanuatu - Cairns (arrived 11th July) - Darwin (left 1st September) to Indonesia (Bali) then across the southern Indian Ocean (Christmas Island - Cocos Keeling - Rodrigues - Mauritius - Reunion), reaching Richards Bay, near Durban (S. Africa), on 16th November 2007. I left Cape Town for Namibia in February 2008, then sailed across the S. Atlantic (to St Helena, Fernando de Noronha & on to Trinidad), into the Caribbean, across to Panama & back into the Pacific. Delayed by unavoidable repairs in Trinidad and a long wait in Colon to transit the Canal, I was leaving Acapulco around sunset on 18th June 2008 for the short passage to Zihuatanejo..... but we grounded on a beach in surf before first light on 19th June..... just 60mls short of completing my circumnavigation!!
(Full details are to be found in the 'Latitude 38' and 'Yachting Monthly' stories in the 'Articles and Interviews' section found on this website.)​
(Postscript 3rd June 2016: I successfully sailed from Acapulco to Zihuatanejo over that final leg of my first solo circumnavigation - so that solo circumnavigation has now been sailed by me in full from, and back to, Zihuatanejo.)