Monday14th November 2016
What a complete mixed bag of conditions over the first 24hrs... from becalmings to strong gusts, getting taken by strong tidal current towards Race Rocks, being headed by W wind and so having to tack a long way N-S for very little westward gain.... But just after dark tonight, we cleared Cape Flattery and started heading SW to get offshore in the Pacific Ocean.
It was a slow start around 4.30pm on Sunday over the harbour entrance start line: from Ogden Pt, where a group of enthusiastic supporters were waving and cheering from the breakwater as I started, to the green mark opposite. 'Prince of Whales' did their usual good job of towing 'Neeida', with a sealed engine, from the Causeway Dock and a second RIB kept us company until after I'd started my journey S. Even the Victoria RCC boat was there, unexpectedly, to see me off - thanks, Simon! (I'd contacted them and the Coast Guards on Saturday to warn them that I might be drifting around in no wind overnight in the Strait sometime after my 4pm start.)
It was already twilight and the strong ebb was gradually taking us towards Race Rocks. As we got closer, despite very little boat speed (due to very little wind), we were making more and more speed over the ground... reaching over 7 knots. Not wanting to risk being taken onto rocks by that strong current. I decided it would be safest in the dark, being unfamiliar with the waters, to go around the notorious area, rather than through Race Passage as I had done in daylight before - but the W-flowing current was so strong we had to head SE in order to make a course to our SW! As we passed well S of the rocky main island, the waters got incredibly rough - another effect of the strong ebb. It felt good to be out of danger, finally.
I had to stay awake all night, with just a few catnaps - busy tending the sails, looking out for shipping, making sure we didn't get too close to a shore and reacting to the many changes in wind direction and speed, always trying to keep heading W towards the exit. With a lot of rain initially, I also felt very cold, having to sit around in very wet clothes, ready to jump up on deck if needed... Suddenly, soon after making for the US side from Race Rocks in light wind, the boat heeled well over as we were hit by a 25-knot squall. I rushed up and tied two reefs in the mainsail and reduced the big headsail (genoa).... all to be released later when the wind died totally, yet again. Tne good news was that we managed to keep moving almost all the time, sometimes quite well.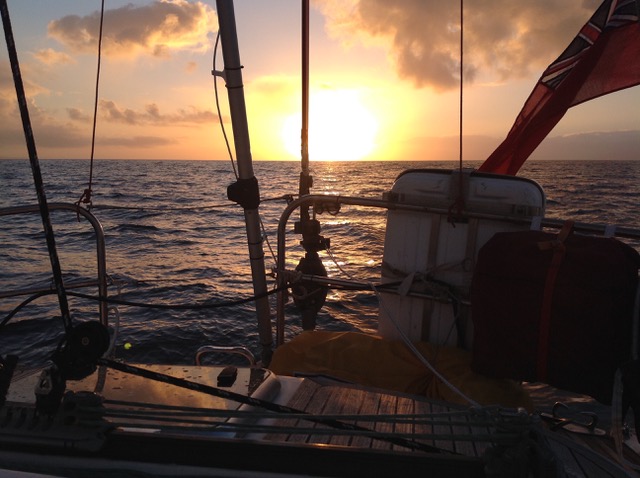 I'd expected it to take a long time to get away- and so it did... Over 24 hrs from the harbour to passing Cape Flattery tonight... I'd even drifted backwards N of the Cape when caught mid-channel in the flood tide with no wind... but soon after we were making 6-8 kt downwind in an E wind often over 20kt and quite big seas. At that point, taking in a reef seemed sensible overnight, thinking conditions were not lessening but, in fact, the wind has now (9pm) eased to 16 kt and we're making 6.5kt SW. Much more and I'll be increasing canvas....
I'm posting frequent Winlink/Shiptrak position reports since I heard there might be a problem with the Aurora tracking.. I've also had a problem connecting in to the satellite email, although I had a chat with Julian Clegg on BBC Radio Solent last night and there was no problem with the voice connection. I'll use Winlink to post this to my website as an email via HF radio.
Present position: 48 15'N 125 14'W