Report from Mazatlan: 19 May 2015
La Cruz de Juanacaxtle was left behind early in the morning on 8th May, with the idea of stopping at anchor overnight close to the small island of Isla Isabela - a bird reserve where frigates and boobies nest and lizards abound. But my alarm failed and I left two hours later than intended - which meant that by the time I got close to Isabela it was too dark to anchor - it was just not a safe option with all the rocks around.
I had the engine running and although I'd raised the main hopefully before leaving, there had been almost no wind all the way so far. Speaking to the Pacific Seafarers' Net, I decided to cut the engine, hoping to reduce the noise on frequency - it made no difference! I debated going a good distance off and trying to heave to (but little wind for that to work) or maybe I could just drift around until first light, when I'd be able to anchor and spend the day snorkelling and relaxing.
But the engine refused to start from the cockpit and made very unhappy noises each time I tried... Eventually, I persuaded it to start but the incident made me feel it would be best to push on to Mazatlan overnight so problem could be looked at. Still very little wind so little chance to sail....
Fairway buoy, well off Mazatlan Harbour entrance channel, seen in the distance in second photo: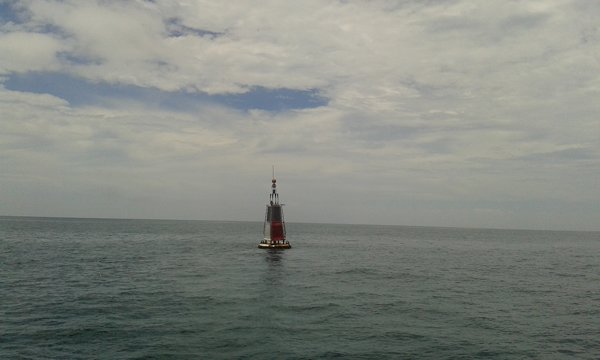 Distinctive hill at entrance to Mazatlan main harbour: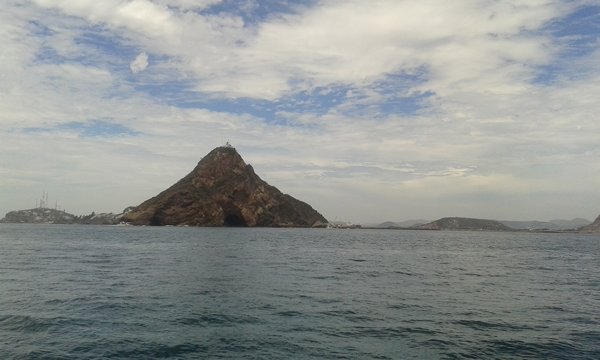 Plenty of small islands along the coast, with shallows inshore, heading north of the old town: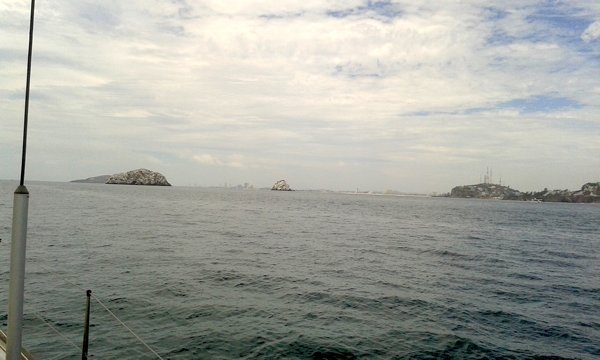 Small, but hard ....a !urking rock to be avoided! View looking back to Mazatlan harbour entrance and old town: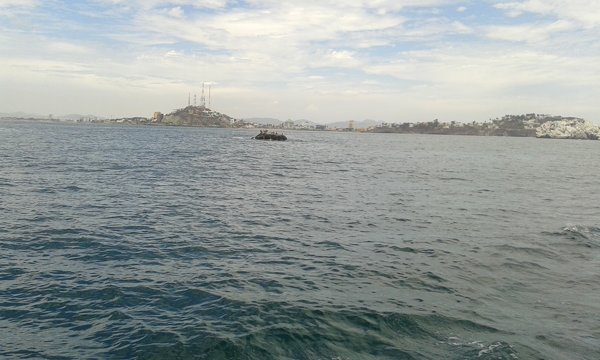 As I got within sight of the newer (small boat) harbour entrance mid-afternoon, having passed the old Mazatlan Harbour (used by larger vessels and the ferry over to the Baja peninsula) an hour or two earlier, the engine failed again, close to the rocky lee shore of Isla Pajaros with what was by now an onshore breeze blowing... My suspicion was lack of fuel, having heard the engine noise varying in pitch not long before - but, on checking, there was plenty in the tank, so I then suspected dirty fuel/clogged filter. No time to investigate ... The genoa was quickly unfurled (the mainsail had already been dropped ready for entering harbour under motor) and I was able to sail gently away from immediate danger. Nice to be a sailboat, not a motorboat, in such situations!
The anchor was dropped not too far from where I could see the breakwater marking the entrance channel. I changed the fuel filter (TG for an easy switch-over Racor system!) and tried the engine again, connecting the house batteries to the start battery for extra 'oomph'.... Initially, it still wouldn't start properly but eventually it started and kept going... (I'd begun to wonder if injectors were a problem) Friend Randy ('Spirit of Hanalei') had come out with two helpful Mexicans in a panga to give a tow but instead was able to escort me to a berth.
The engine instrument panel had failed, along with its start switch, so it was good to be able to use a switch I'd installed on the start motor to avoid using a screw driver across the terminals(!). The Maztlan Port Captain had not been helpful over radio when he'd been asked for assistance, so I was lucky to have been able, quite by chance, to contact Randy on VHF radio (nice to have that working well now!)... and to have sandy shallows nearby to anchor in safety. (Was told early on that the tide was too low to enter over harbour entrance bar, so I had to wait two hours anyway) Would have been a difficult, although not impossible, unfamiliar marina berthing under sail with the strong afternoon onshore thermal wind. (There's little or no wind overnight, when it gets quite cool, nor in the mornings.)

Nearly forgot to mention that the main GPS had stopped working most of the way - but immediately worked fine when at the dock. (Why....?) AIS was playing up all the way also - kept switching itself off - seems like an overheating problem. Very frustrating since it was now supplying the missing GPS info to the instruments - so position info kept going down... Nice to be well offshore then! Another, more major, problem was that my small laptop refused to start up halfway through the passage. It had been fine when I had sent out emails and got weather info via my lovely fast Pactor 4 modem and my HF radio but it then doggedly played 'dead' - and has done so ever since... I'm trying to get a replacement battery, hoping that is what it needs...
Not surprisingly, I took Sunday off to go in by bus with cruiser friend Joy to explore and visit the indoor market: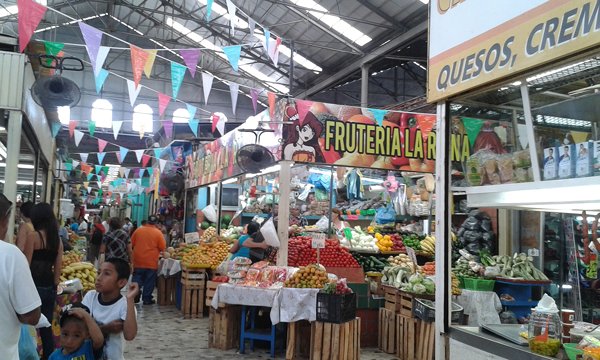 which is not far from the Cathedral: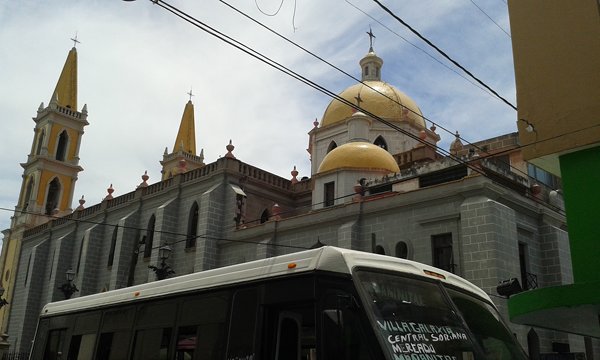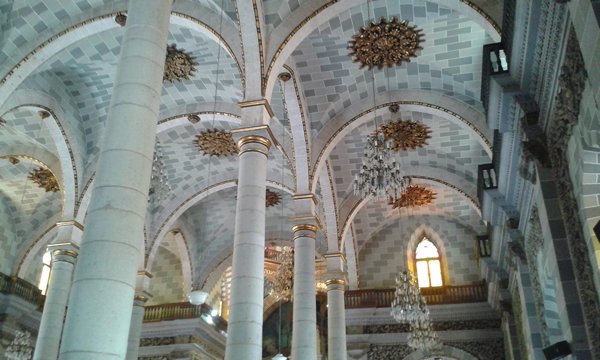 Old Mazatlan's 'centro historico' is lovely, although many lived-in buildings with beautiful facades have ruined places just next door. This one makes a feature of the overgrown building which has only been partly restored - for use as a lovely, well-shaded restaurant, complete with hanging vines and a photo of the original owner of what was once a grand mansion with a typical big courtyard behind the immense heavy wooden front doors....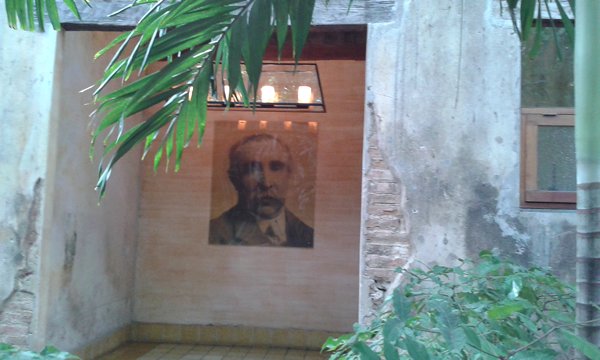 It's a lovely restful area - on a Sunday, at least!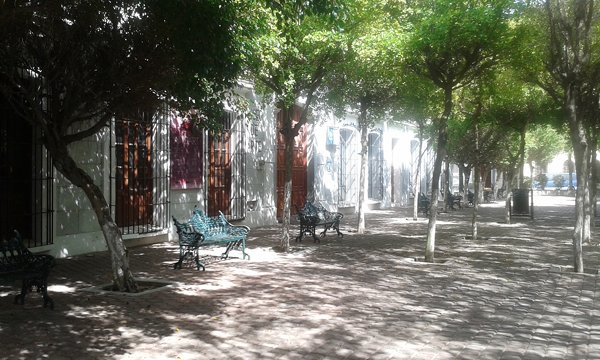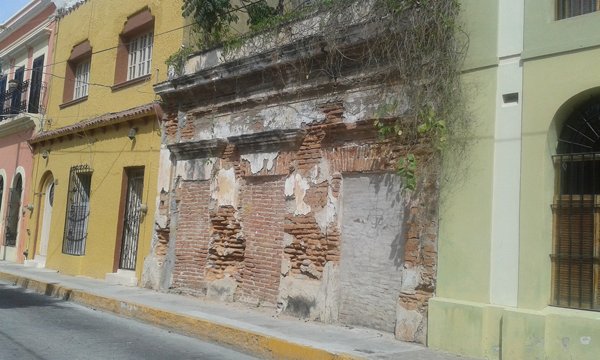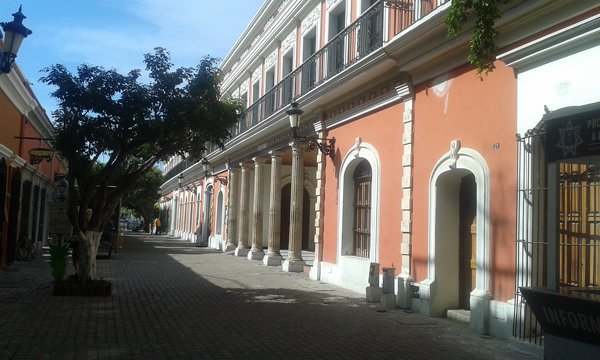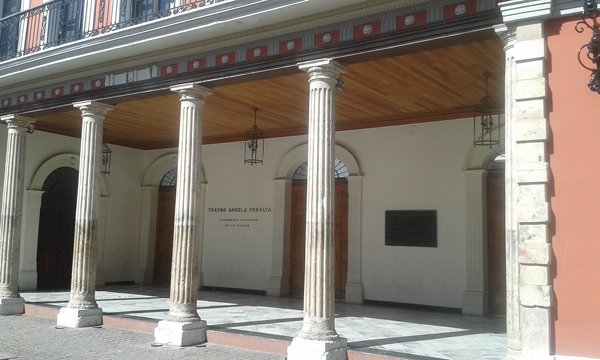 Since then I've been busy with boat jobs, trying to shorten the list in between struggling with the poor Internet connection to get my website up to date and deal with emails etc. (This update has taken most of today!)
My main worry was the engine and what also seemed to be both a charging problem and a start battery problem. I kept a careful eye on the batteries, which were well down on arrival, and once they were reasonably well-charged (by just solar and wind since shore-charger has been dead for a long time now!), I was able to start the small generator to give them a real boost. The start battery held its charge fine for several days, so I finally tried to start the main engine - using the cockpit switch... and it ran, first time of trying...! The other good news was it was charging OK... it didn't falter or stop... and I didn't have to use the switch on the start motor in the engine compartment... Can't see why a clogged filter should have resulted in so many other problems - but I celebrated that night!!
In between, I topped up the fuel tank from the jerry cans and then gave the cockpit and the area all around a good clean - floor, drains, sprayhood(a.k.a. 'dodger') and windows are now all thoroughly dust-free. The sun has been getting very hot by midday, so I've rigged a sunshade over the cockpit, but the nights are nice and cool, after the usual strong afternoon onshore breeze.
Saturday's major job was persuading the life raft to move along the stern rail, away from the stern light and Hydrovane control line. Took the energetic and noisy use of a rubber mallet along with a lot of determination not to give in - but eventually won the day and got it to move to a better position. Went on to replace a third reef line, wired some shackles, and re-ran lines through mast-base sheaves to & through a turning block and clutches. More work on replacing lines is needed.
Also had help from a friendly Mexican boat nearby... "Si quieres ayudar..." said Oswaldo - so, needing some muscle, I took him up on his offer and they willingly helped with a problem I'd had while working on re-fixing the hard sprayhood to its steel support using some spacers. Ended yesterday by replacing some bungy on the H'vane control line... Nothing very exciting but all useful work that has been on my list for quite a time - so it was a satisfying weekend's work.
Went and had a good pizza with friends last night - made a change from Mexican and they do them well here!
Spanish is improving with use - nice to be able to chat to people, even though it's limited still.
Hope to get a few more things done over the next few days before heading further north - hurricane season is about to start up, so I need to get 'Nereida" out of harm's way..