Tuesday 10am NZT (Mon 2200GMT) Finished with morning radio Nets a short time ago - making good contact now with Fiji, Tonga and French Polynesia but getting more difficult to make contact with NZ/Aus Nets.
Sailing close to the wind, as we are, means that we're heeled almost all the time and often pounding into the seas. It's not a very comfortable or fast point of sail! I'm making good use of the hinged steel restraint beside the chart table seat that gives an arm rest there and stops me from falling onto the floor as we heel over!
Seas are quite rough now - swell is coming more from ESE with a shorter interval and with a good-sized wind chop on top. Apparent wind is around 20kt - much more and we'll need to take in another reef...
A lot of cloud around, often quite large, so gusty conditions again, making boat speed vary quite a bit in addition to effect of swell.
Weather forecast is showing this increased wind will hold over next few days - 20-25kt is expected, with bigger swell for a couple of days at least.
I've changed course slightly to come off the wind a touch more - should help with both speed and heeling.
12:30pm After a long time making good speed in strong wind, we've slowed right down again - there's a big cloud close by and it's killed our wind...
2pm We were soon sailing at speed again and very well heeled over. Seeing the wind get up to over 24kt quite often, and with a new weather forecast giving a large area of 30kt winds very close by, I decided it was time for another reef - so we now have the 2nd reef in and we're heeling a lot less ... and I'm feeling a lot more comfortable, as well.
Two birds seen while I was reefing - a dark petrel (Parkinson's?) and another, quite large, with white underbody.
5pm I thought the wind had eased quite a bit but it's actually still 24kt or just under - being well reefed down and the wind being less than 30kt seems to make all the difference. We're making a reasonable speed without being heeled over so much that moving from one side of the cabin to the other feels like climbing Everest with the added danger of being thrown to the opposite side of the cabin with some force. It's dark now and some stars can be seen through the open hatch in between a few clouds. The wind generator (Superwind) is putting around 10A net gain into the batteries (as well as keeping the instruments and AP running)
Seems this strong SE wind, typically in July, is called a 'Maramu' in Polynesia and is caused at this time of year by a big, settled High pressure area to the S - just as we have now. It often blows for up to two weeks and can be very strong - 30kt or more - as I'm seeing!
It's been nice to be able to leave the sliding companionway hatch open most of the time without the worry of cold air coming down into the cabin to cool it down. Even though the occasional wave washes over the fore deck in rough seas and onto the hard top, the hatch area is protected and gets none of that water - except a little from the damaged window which usually drains into the cockpit without getting down below. Only in heavy rain has some water got down below from around the edge of that window and that was some time ago - heavy rain like that does not seem to occur very often.
Wednesday 4:30am NZT (Tues 1630GMT) First hint of light in the sky - dawn beginning. Low cloud on E horizon, mainly clear overhead. Wind up to 30kt - rough conditions as the seas catch us and toss us around - a bit too heeled over at times, despite being well reefed down!
5am Pink edges to many of the grey clouds around. Hoping they don't stop me from seeing the eclipse when the sun appears - hopefully, in between them soon.
Dark petrel seen flying nearby - caught a glimpse of its bill - definitely a light colour.
5:15am Wind has eased - now down a little to 25kt but seas still very rough and we're well heeled. Holding on tightly to stay safe in the companionway - too rough to be watching from the cockpit. Sun seen well between clouds ahead. I'm wearing dark sunglasses and squinting with almost closed eyes - can clearly see top of sun is dark - over 2/3rds is obscured - makes sun into a thick crescent shape, lying on its back. Edges of clouds prove useful for sighting the eclipse, reducing sun's glare but clouds generally are getting in the way.
6:30am Obscured portion of the sun has moved down to right-hand corner - just under 1/4 is dark now.
6:50am A long low line of grey cloud is about to get in the way of further sightings - sun disappears behind the cloud - end of eclipse for me, but not bad - saw a lot, despite clouds, and very lucky to be in the right place at this time - very few others will see it until it gets to Chile for a brief glimpse of it, just before their sunset today.
____________________________________________________
A note from Allen, ZL1AYH, about the eclipse around 1800GMT on 2nd July (see photo of map posted previously showing path of eclipse): Note image added by Web Team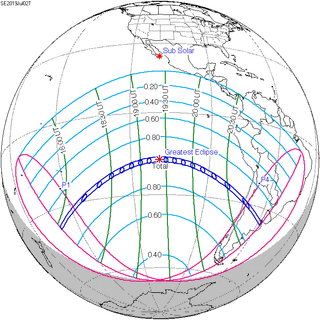 " It will reach Chile but at sunset and the totality is shorter. In fact the Astronomers there are rather excited as it is the first time a total eclipse has ever passed over the (newer) largest telescopes in the world."
*****************************************************
While sailing around the world, I'm trying to raise funds to help support the superb life-saving work done by the RNLI (Lifeboats) in Britain each and every day of the year, regardless how bad the weather. In fact, the worse it is, the more likely they are out there, helping someone in distress - whether a swimmer, surfer, small boat or big ship, night or day, summer or winter. They are all volunteers with normal day-jobs who respond immediately to a call and it is a charity - no government funding - so they rely on our help to fund their intensive training and maintain their equipment.
It would be great if you would take a moment to click on the Lifeboats link here (https://www.justgiving.com/fundraising/Jeanne-Socrates2), if you'd like to show your support for my efforts at sailing solo, nonstop, unassisted around the globe, trying to set a World Record as the oldest person to do so, by donating something towards the great work the RNLI do every day. If a lot of people put in even a small amount, it all adds up... Thanks a lot! If you can help, it will be very much appreciated. Let's see if we can reach my target!
***************************************************
1900GMT (= 7 a.m. NZT) - end of Day 272. We made 105 n.ml. DMG, measured in a straight line between the two 1900GMT positions.
Total distance covered from Victoria, B.C., to end of Day 272 (by daily DMGs):22,112 n.ml
Distances (at 1900GMT): East Cape, N.Z.: 1525 n.ml. to SW; Tahiti: 615 n.ml. to NNE; Tubuai (Iles Australes): 327 n.ml. to NE
Position, as posted to www.Winlink.org and www.Shiptrak.org (using my US callsign KC2IOV):
TIME: 2019/07/02 19:00GMT LATITUDE: 27-12.04S LONGITUDE: 153-50.90W
COURSE: 047T SPEED: 4.5kt
WIND_SPEED: 25kt WIND_DIR: ESE SWELL_DIR: ESE SWELL_HT: 4.0m CLOUDS: 25%
BARO: 1030hPa TREND: 1 AIR_TEMP: 20.0C SEA_TEMP: 25.0C
COMMENT: Solar eclipse - 70% obscured. Strong wind/rough seas - Maramu
-----
At 02/07/2019 19:00 (utc) our position was 27°12.04'S 153°50.90'W