What an amazing welcome! ... from people on so many boats nearby keeping us ('Nereida' and me!) company and from people on the Ogden Pt breakwater, many of whom had been waiting since mid-morning. When we neared the harbour, the Fire Boat came out and gave a magnificent water display from its hoses - three streams of water formed a moving curtain of water, and the boat itself seemed often to spin on the spot - a real pleasure to watch - thanks for a wonderful display! Later, there was a big welcome on shore after we finally managed to drift across the finish line, despite almost no wind - with occasional short-lived gusts having frequently given a false impression that the wind was getting stronger.
The day before had seen a beautiful sail in good wind and bright sunshine down the Juan de Fuca Strait towards Race Rock - with the mountains of Vancouver Island to the N and those of Washington State to the S. The wind had died again by the time Sooke was reached, so the night was spent drifting - but in company with Bob on 'Duet', who had come out to meet 'Nereida' and stayed nearby all night. 'Duet' left us soon after dawn, by which time I'd managed to get just two hours' sleep and was now trying to round Race Rock in a wind that had teasingly strengthened a little, before heading towards Victoria Harbour, visible in the distance - this time with John and Marj on 'Sauterelle' for company - but in increasingly light wind.
More boats came along to welcome us as the day progressed - it was lovely to see so many familiar faces after so long away. But the wind was determinedly light and mostly from almost dead astern, making it difficult getting to the line. I seemed to be gybing the mainsail again and again... But eventually, just before 5pm, the wind came up a touch more and we were able to get closer and closer - finally crossing to a cacophony of horns and cheering ...
I couldn't stop smiling and was delighted to see so many lining the harbour walls and docks ..... Thank you all so much for waiting around for so long and giving us such a wonderful welcome back!
The Prince of Whales towboat had on board the WSSRC-nominated official who took our time at the finish and who also came on board soon after to check the engine was still sealed and had been unused all the way around.
Customs officials had to check us back in to Canada - having 'gone foreign', those formalities had to be seen to before I could step onto the dock to greet friends and receive a variety of presents, including from the Mayor of Victoria and from the OCC (Ocean Cruising Club). There was plenty of fresh fruit to enjoy and a few bottles to open later..... All very enjoyable and my thanks, again, to so many for patiently waiting despite the agonisingly slow finish in such light wind. There were several times when I thought I'd be waiting all night, not managing to get across in daylight!
After a celebratory party with 'bubbly' on board 'Trilliant' with friends from the RVYC (Royal Victoria Y.C.), it was a great pleasure to snuggle down for a long sleep into a lovely soft, enormous bed at the nearby Empress hotel, where I'd been kindly given a couple of nights of guaranteed excellent sleep and good food.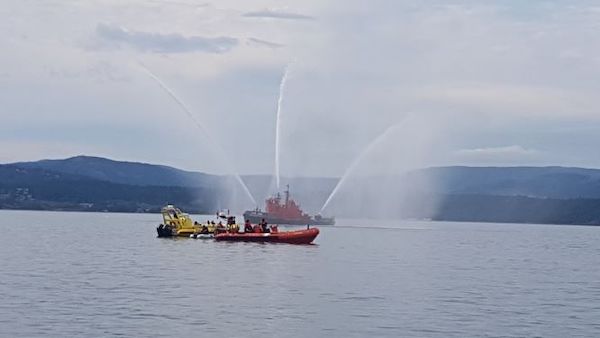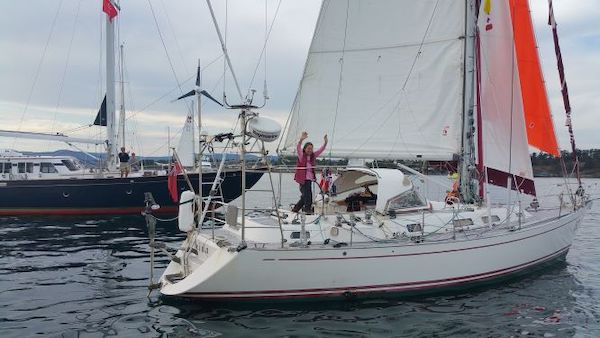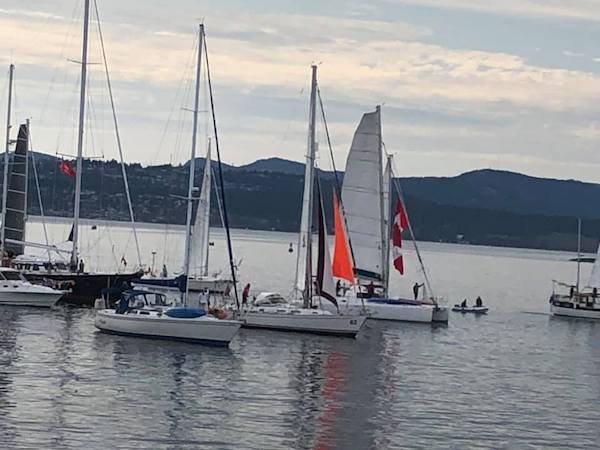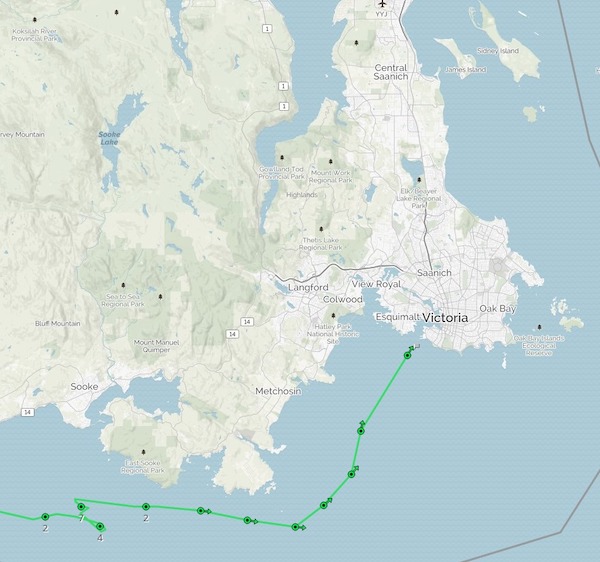 *****************************************************
While sailing around the world, I'm trying to raise funds to help support the superb life-saving work done by the RNLI (Lifeboats) in Britain each and every day of the year, regardless how bad the weather. In fact, the worse it is, the more likely they are out there, helping someone in distress - whether a swimmer, surfer, small boat or big ship, night or day, summer or winter, and it is a charity - no government funding - so they rely on our help to fund their intensive training and maintain their equipment.
It would be great if you would take a moment to click on the Lifeboats link here (https://www.justgiving.com/fundraising/Jeanne-Socrates2), if you'd like to show your support for my efforts at sailing solo, nonstop, unassisted around the globe, trying to set a World Record as the oldest person to do so, by donating something towards the great work the RNLI do every day. If a lot of people put in even a small amount, it all adds up... Thanks a lot! If you can help, it will be very much appreciated. Let's see if we can reach my target!
(I hear that some readers might need to talk to their bank BEFORE trying to make a donation to the RNLI since many US banks routinely block foreign transactions unless they are notified in advance.)
***************************************************
1900GMT = midday PDT (Pacific Daylight Time) - end of Day 339. We made 79 n.ml. DMG, measured in a straight line between the two 1900GMT positions.
Total distance covered from Victoria, B.C., to end of Day 339 (by daily DMGs): 27,911 n.ml.