​Beautiful May weather has been enjoyed all month long...!!
I'm adding photos below of the opening days at Royal Victoria Y.C. on the Saturday and at the Canadian Forces S.A. the next day - both Clubs very welcoming and both days were very enjoyable - good to get out on the water for each club's 'sail-past'!
I've been finding it difficult to get down to clearing up down below and dealing with quite a few boat jobs that are on quite a lengthy list - just too many other things to deal with!
One reason, more recently, has been acting as a Volunteer for the 75th Swiftsure Race - great fun and good to be useful but quite tiring - I was on 'duty' in the Radio Room Sat/Sun midnight-6am and then walked over to the Arrival/Inspection Dock, to welcome with hot soup and then check boats for Safety gea
r after they'd finished, from 6am-noon Sunday - and then again from midnight - 6am on Monday for the stragglers at the end of the Race. I was really happy that several boats that had looked as though they would not make the 6am Monday cut-off as they drifted around in no wind trying to get to and around the Swiftsure mark just outside the Strait entrance overnight managed to get in before the deadline. Some very happy and relieved crews! TG for the increasingly strong wind from Sheringham Pt to around Race Rocks!! (I caught up on sleep on Monday!)
One Sunday morning, fellow Club-member Steve kindly took me to Butchart Gardens. He was a knowledgeable guide, who waited patiently while I took a lot of photos of the wonderful display of Spring flowers , and we carefully timed an early arrival there to miss the crowds that appeared by midday.
On a walk from UVic back to RVYC soon after, I spotted some lovely but tiny wild flowers in a grassy area.
Soon after that, my faithful fold-up Brompton bike was returned to me (the ex-Commodore Gordon and wife Maralyn had been storing it for me with a lot of other gear!) so I've been able to bike around - one time to Oak Bay for a sunny Saturday morning Alliance Francaise get-together to practise my French. Then, last weekend, I biked (TG for Google Maps!) to Clover Point for the start of the Swiftsure Race. Nearly two hundred boats made quite a spectacle as the RCN vessel 'Nanaimo' sounded each start - with a puff of gunfire seen from shore, the sound coming several seconds later - but race flags onshore were clear, with VHF radio contact between the Race Committee on 'Nanaimo' and the shore team filling the void.
Now I'm busy again - but this time with the Melges24 Worlds and the Canadian Nationals Racing - the racing taking place outside Victoria Harbour over the weekend (Canadian Nationals) and all next week (Melges Worlds). Last night, I was over at the spanking new (and almost-finished...) Victoria International Marina in Esquimalt, helping fill the skippers' 'goody bags' and learning about my duties with Registration of the boats and crews on Friday and Monday afternoons - no overnights for small boat racing!!
So it's almost June - the evenings are staying light for longer, the weather is just great and I really need to ready 'Nereida' for sailing. I'm feeing pretty well recovered from my fall, apart from needing to improve on my general fitness and 'work in progress' still on a stiff neck that is not quite rotating as well as I'd like. I really want to get out over the summer to check that my boat-handling skills are OK!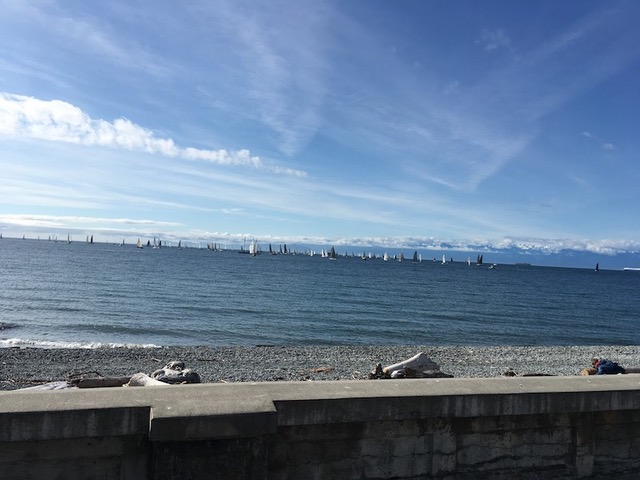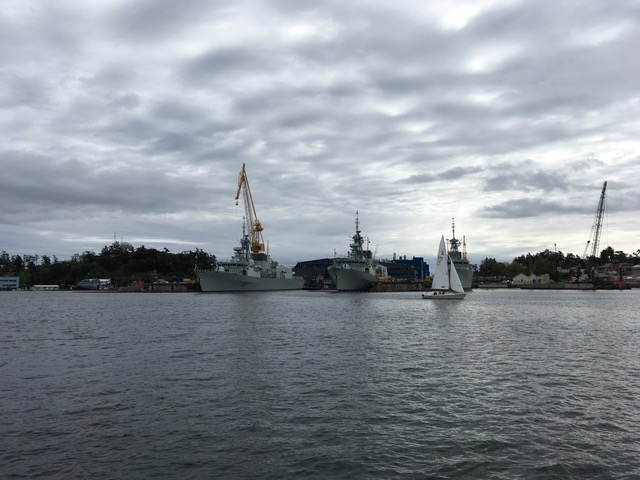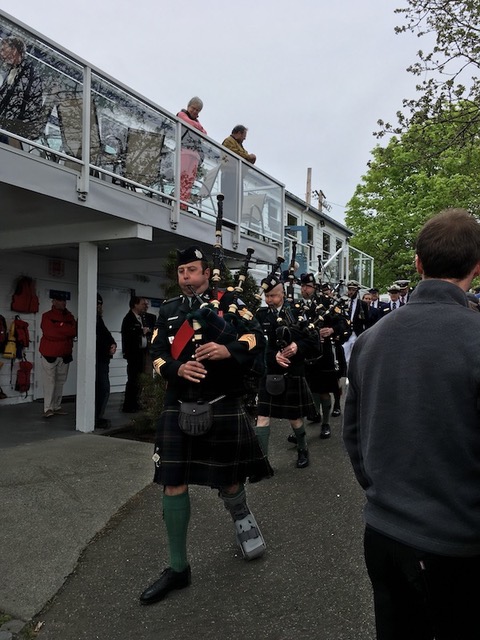 Californian poppies are in flower everywhere