Back to San Carlos via Phoenix, to work on 'Nereida'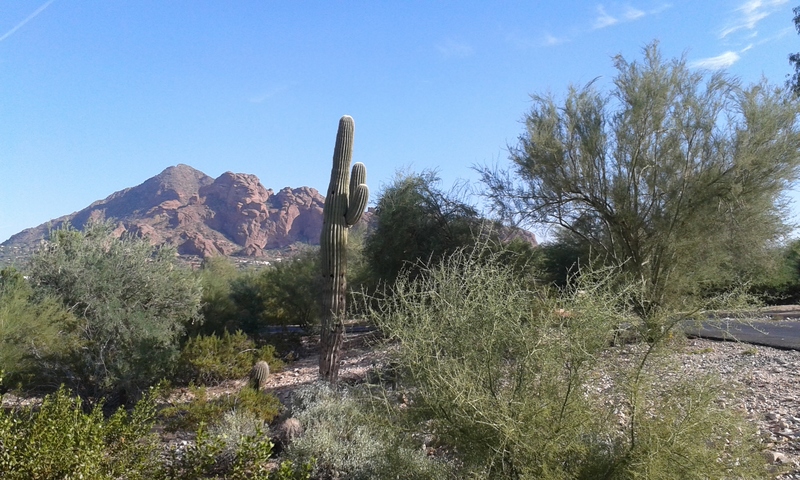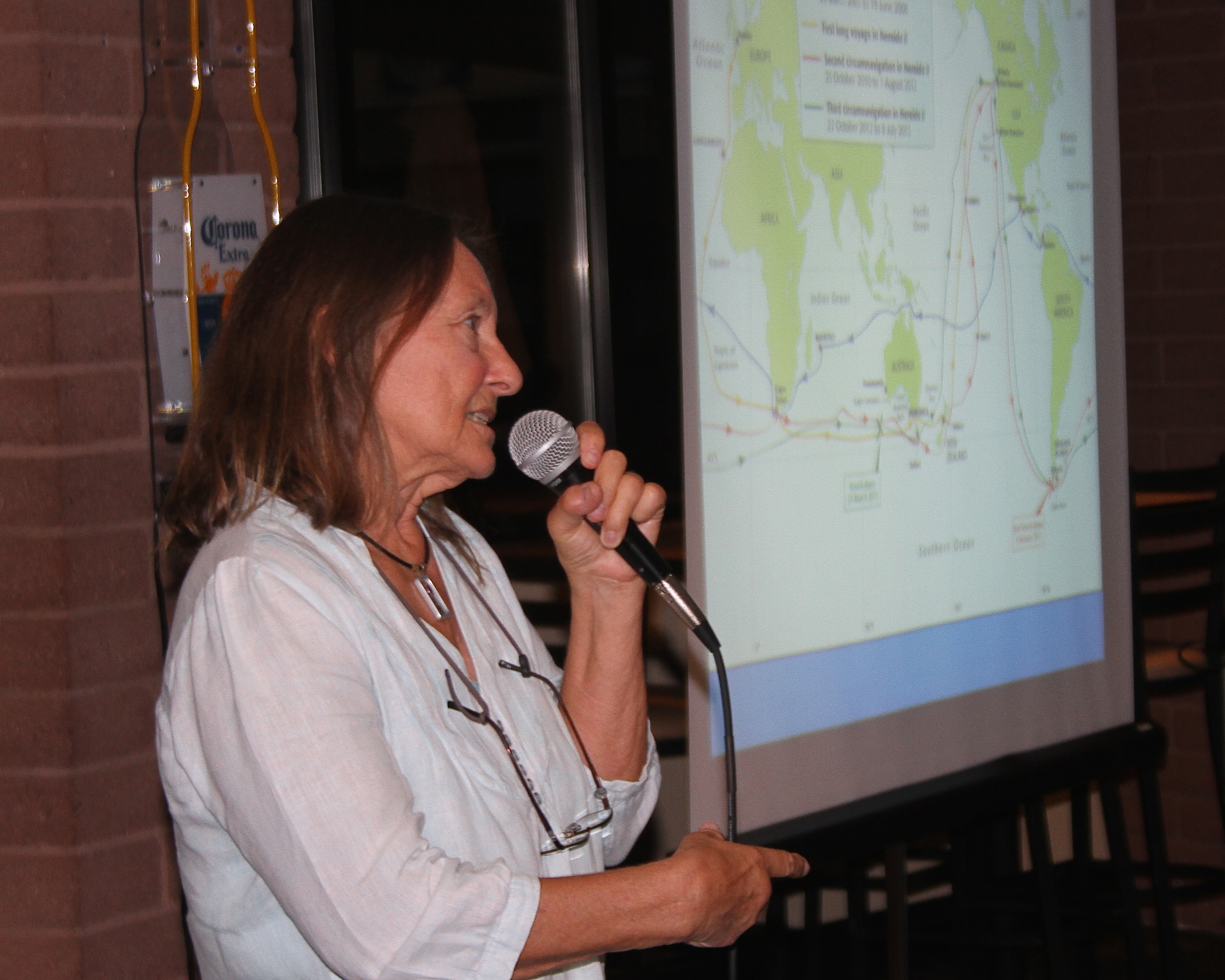 Spoke at Arizona Yacht Club meeting in Tempe, by Phoenix, on Tuesday 14th October, before heading on down to San Carlos. A great audience at my talk …. and a fun time the Sunday beforehand, sailing a Laser on Tempe Lake, in bright sunshine. Strong gusts capsized me twice - but water was fresh and warm, so swim was quite pleasant... Safety boat came to my rescue - I was just not heavy enough to get boat up again each time, despite all my efforts heaving on the end of the centre board!
Busy again now in Marina Seca, San Carlos - trying to get into 'Mex mode' to avoid stressing myself out over time taken to get nowhere... But my bow thruster streamlining 'project'has been nicely smoothed and finished off by Pepe and Adriano. (No - I didn't want one, but since it's there, might as well prevent the loss of speed the tunnel must have caused).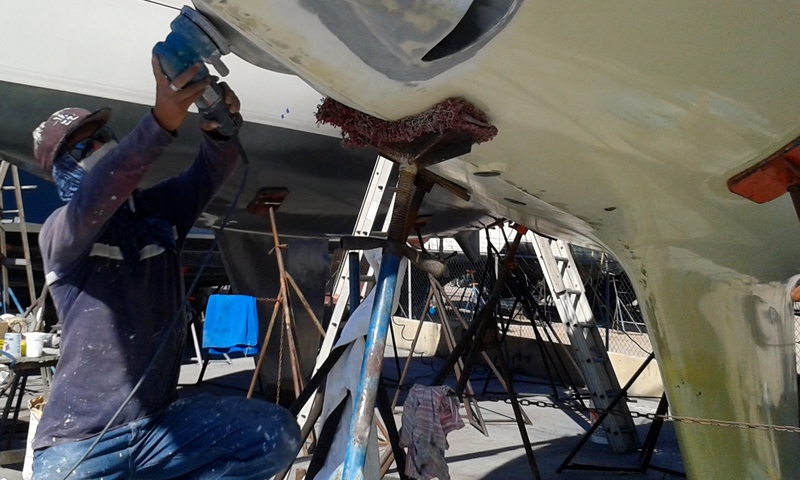 Had help installing replacement steering bearings and cables (with new greasers) and (replacement) new wind generator - wiring needs to be finished and hub plus blades to be put in place.
Also installed a Halyard Exhaust Alert in exhaust hose, with cockpit display - hoping never to have engine damaged by overheating in future. Wiring of alarm and junction box needs completion but it's not difficult - just needs me to find time to get to it.… (Photos show sensor inside hose and outer connection to junction box)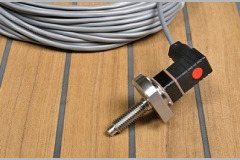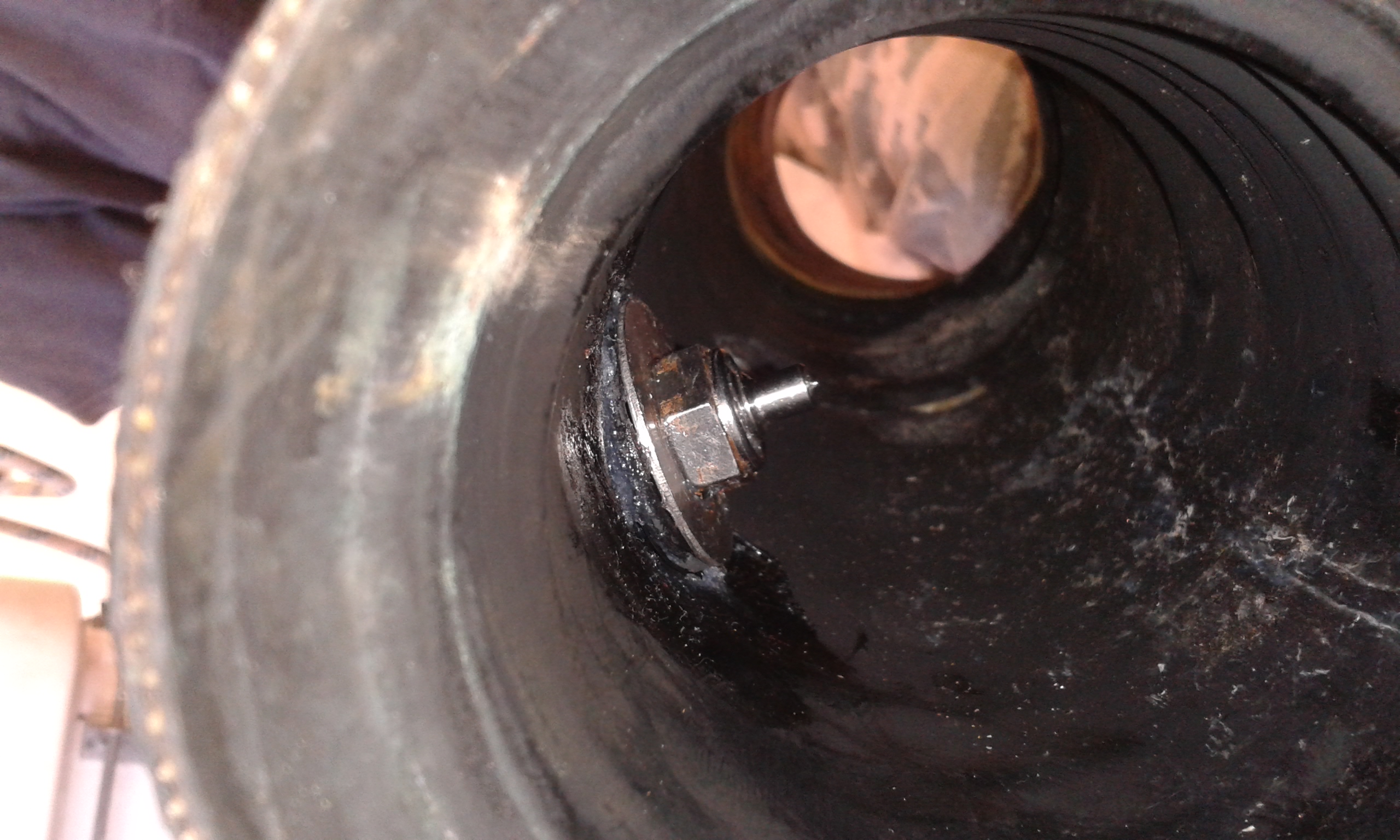 With aft cabin turned upside down for access to wiring, I'll complete work there before replacing newly-cleaned bunk tops and tidying up - means main cabin and forepeak are jammed up, making moving about difficult. Hard awning/dodger is also needing some more careful thought - spent time making 'patterns'for steel plates and straps to attach it firmly. Jorge has been mproving the inside finish in places with fresh gelcoat.
Found an empty (i.e. leaked!) bottle of epoxy hardener all over forepeak floor ... grrr!! Have spent time cleaning up a big mess, chasing up replacement and organising travel to/from Tucson to pick it up quickly - this weekend, I hope, ready for applying Coppercoat next week. Have scheduled launch for 24th Nov so need to get it done, along with Propspeed application to prop and propshaft, plus dealing with anything else below waterline.
Hot now in sun around midday, but has suddenly become very cool in the evenings and overnight - having to get out warmer bedding. (Debated getting out socks last night, uncovered feet felt so cold!) No shore power input - not too surprisingly, charger is malfunctioning with high input voltage (132V, instead of 120V!) - yet another problem that was NOT on my list of expected boat work! Having to rely on solar power to keep batteries charged - three wires needed new sections added to eliminate loss of output power due to corrosion.
Took last weekend off to relax and go sailing in Tucson S.C. Regatta here in San Carlos - lovely to get out on the water Friday - Sunday, with parties each evening. Many thanks to Peter and Judy Burgard for inviting me to join them, with their son Alan, as their guest for the Regatta racing on 'Bandito', with its distinctive 'Hallowe'en' spinnaker in black & orange adding interest on the downwind legs!
Large moths are out in force in the evenings —they seem to enjoy settling upside down on theinside of glasses to drink the beer!
Friends Robert and Rose finally enjoy 'Tillicum'being launched - after two years of hard work on a total refit - she looks beautiful - happy people!! I'm envious…!