20th December 2014 - 'Nereida' happily afloat... Happy New Year!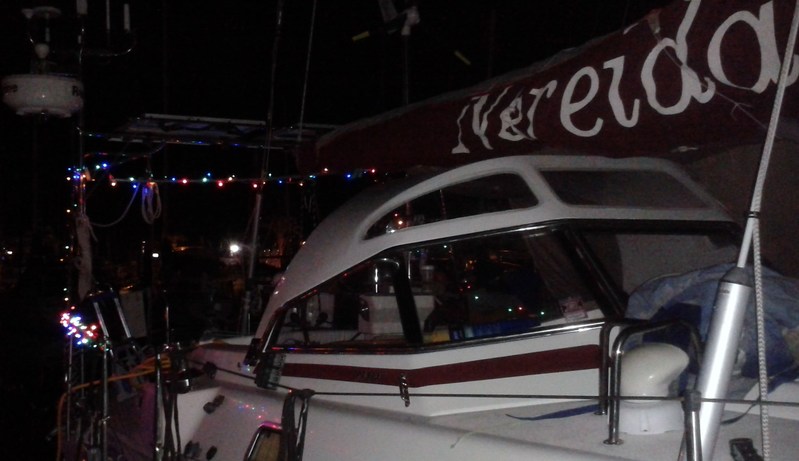 Sending you the warmest of Season's Greetings and wishing you all a very Happy and Healthy New Year 2015... from 'Nereida' decorated with a string of coloured LEDs...
It's great to be afloat at last, even though it's in a marina, still with lots to do... There's a problem here for deeper-draught boats and 8th December was the last possible date for 'Nereida' to be launched for quite a time. So it was vital to be 'splashed' now, in order to be able to go sailing at all over the coming months.
Photos of the short road trip: leaving Marina Seca, onto the main road close by, down to the marina ramp - all being pushed 'backwards', ahead of the tractor driven by Jose-Maria...: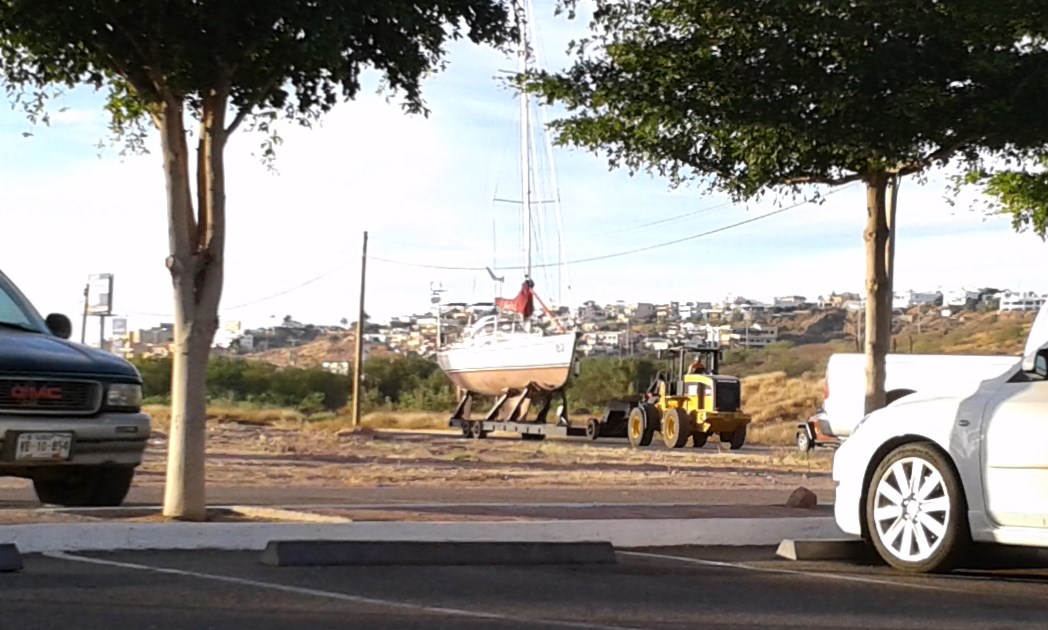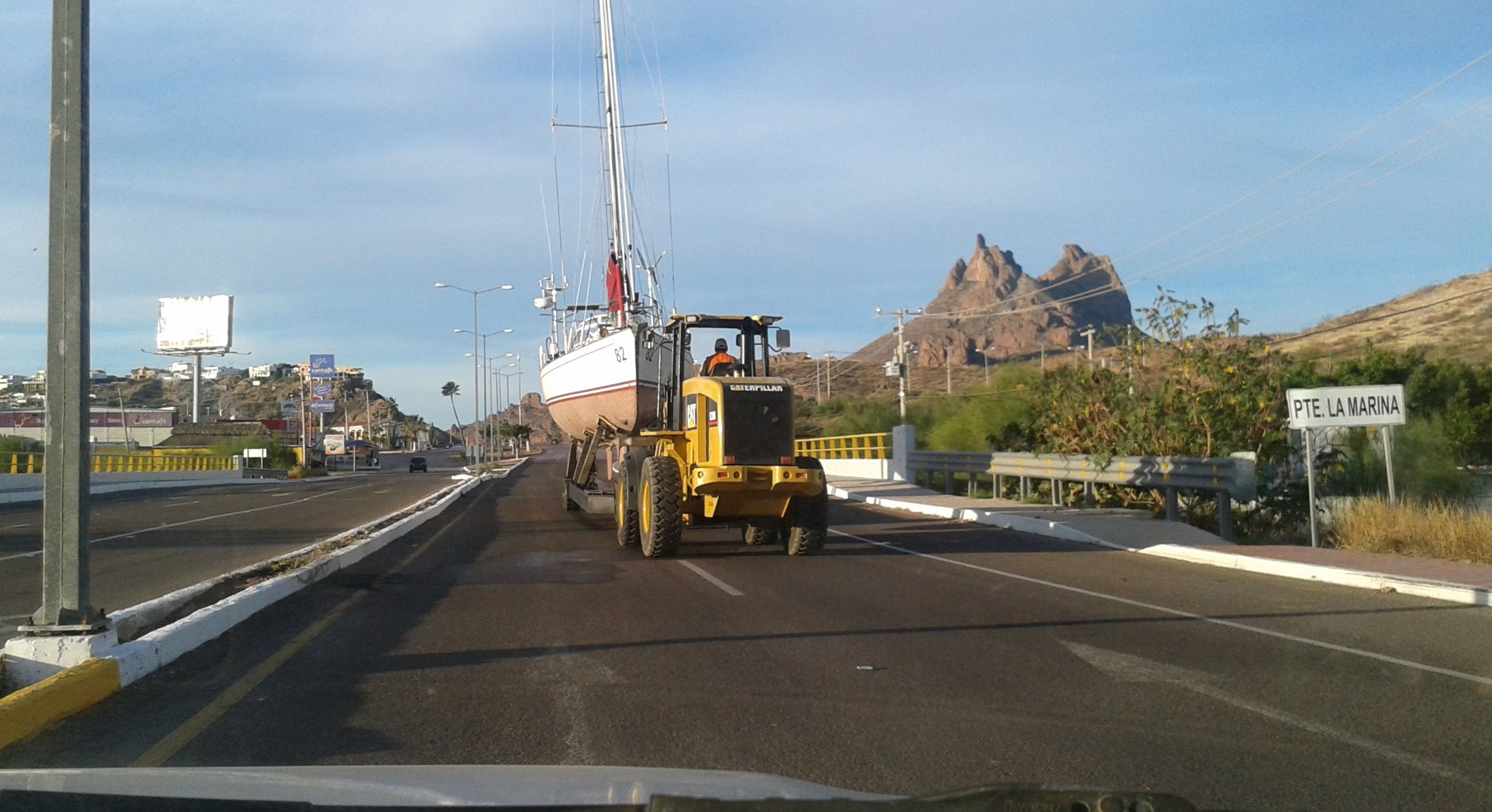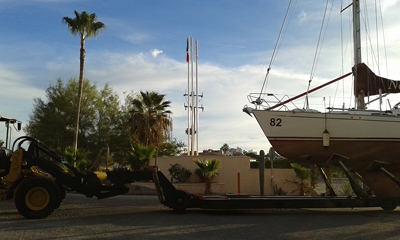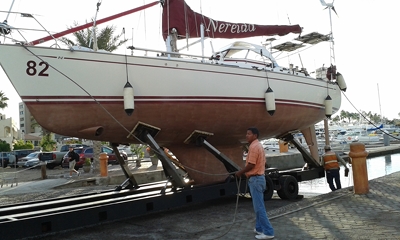 Afloat ..... at last!!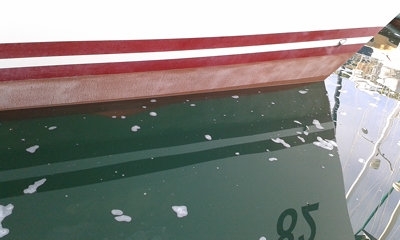 To celebrate, I invited yardworkers Jorge, Pepe and Edgar and their families to join me on board 'Nereida' the following Saturday afternoon with the idea of taking them all out for a sail after a good lunch. (They've never been out on a sailing vessel, despite all their years of working on boats in the yard...) I had a lot of work to do, clearing things away and tidying up to make room for twelve people eating down below and in the cockpit! (Photos show chaos in the main cabin and in the cockpit when we were about to leave the yard - made worse by having had to retrieve lots of gear from a storage locker... I'm busy now working through everything on board, hoping to reduce the excess and make space for visitors!)
I had a nasty shock when hoisting the staysail and finding I'd managed to crease the luff in the track on the foil... It proved impossible to budge it up or down, so I folded/furled it up as best I could, leaving the halyard slack, and then got help from my willing neighbours to hoist the genoa in the hope of using it during the Saturday outing... (A few days later, a cheerful local rigger, Carlos, came to help me - and pulled the staysail down with very little effort - a big relief!!)
The usual scenario in the afternoons is for a N wind to pipe up strongly here, usually after a flat calm overnight and during the mornings, and I suspect my visitors were slightly worried about the possibility of the wind making 'rough' seas and causing seasickness - I later heard that Pepe had asked someone for pills, just in case! I switched on the instruments in preparation for leaving the dock - and saw very little depth of water ... I'd totally forgotten about the shallow water in the marina and that LW was in the afternoon! I checked with a knowledgeable neighbour - sure enough, the word was not to even think about leaving ... I'd be sure to go aground in the marina entrance - either on the sand bar there or on an unmarked rock close by to its S.... (Friends Ben and Lucie, in 'Georgia'went aground on that same sand bar twice a week or so ago... despite their relatively shallow draught!!) ... So my planned outing didn't happen - but we enjoyed the afternoon on board, despite that.
As is so often true, I've found people here to be really friendly and helpful... Garth (originally from USA but with Mexican family across the Sea of Cortez in Mulege) has been very supportive - got my outboard properly serviced by Umberto, gave me some 'magic liquid' he guaranteed would unstick a well-stuck-down turning block on deck, sent rigger Carlos over to me to help with the jammed staysail, and also made sure mechanic Alejandro came to undo the seawater cooling pipe leading to the heat exchanger, where I knew I had bits of impellor stuck - ready to cause me a problem at some point, when running the engine... I was amazed to see just how many broken bits of impellor flanges were there when Alejandro finally got to my engine yesterday (having been to the wrong marina at least twice over the week!) ... LOTS more than just the one impellor that had broken while battery-charging in the Southern Ocean last year...!: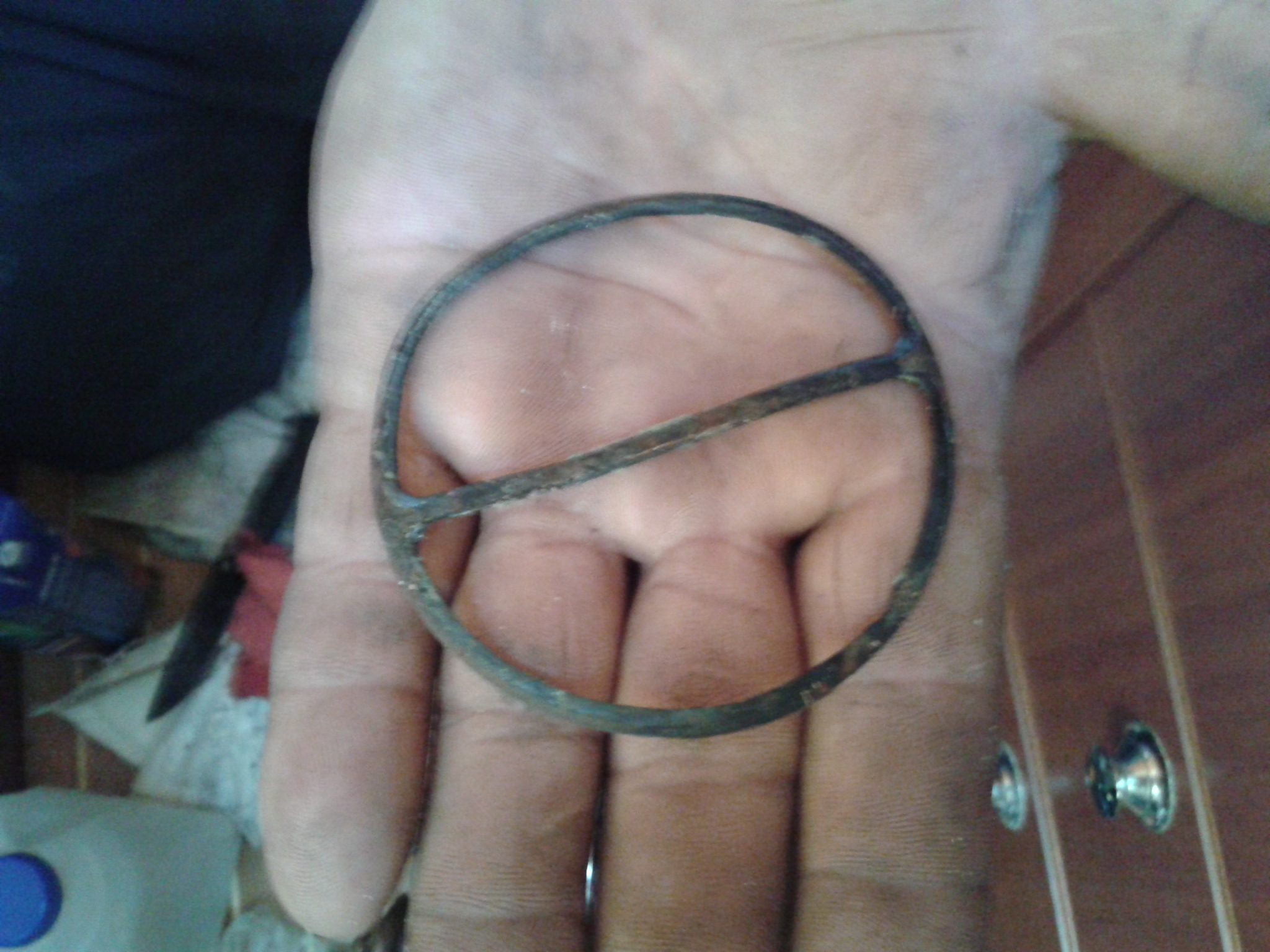 Of course,the gasket needed changing but I have no spare - a tube of liquid gasket proved useful until I get another... Alejandro reminded me I should have a spare injector or two, also... And a small filter placed in the seawater pipe would be useful for easily extracting future impellor bits...
I've been working hard at improving my Spanish recently - of necessity, since many locals have little or no English. It's satisfying to be able to communicate better with them.
With Christmas and the New Year so close, there's been a lot of movement in and out of the area & several friends on boats have left recently, but fortunately a few others will remain. In particular, Ed and Charlene will be here - we're hoping to go out for a sail on 'Nereida' over Christmas Day - that would be great! Ed spent quite a time with me today, looking over some problems on board with a view to helping me, which is greatly appreciated. He'll be back tomorrow with tools.
The Internet here is awful - often impossible to make a good connection, so I tried to get my Bullet antenna working, to a wi-fi router... Gustavo came by - and proved to be very helpful. He got it working at one point, using a spare data cable I bought recently, but it's misbehaving again and needs more work.
My Christmas (and New Year) present to myself will be to get 'Nereida' better organised and sorted out!! Despacio, despacio ...!
HAPPY NEW YEAR EVERYONE!! Feliz Navidad y Buen Ano Nuevo!!