A beautiful sail just outside Victoria Harbour around sunset with friends Louise, Steve and Bob tonight - to test out light-wind sails in readiness for sailing around the globe.
.
Hadn't ever used one of the sails so was a very useful exercise as well as being very enjoyable having crew on board! All took more time than expected, especially since I wanted to calibrate my radar as well - so the Code Zero will be tested out tomorrow
It's been an intensive, busy few weeks of preparation recently, helped a lot by various friends who have offered their help, from meals to being driven to shops to very practical help on board Nereida.
All very much appreciated, of course. Typical was Steve's help tonight with making a waterproof gasket under the cockpit locker lid and the hatch over the forepeak before we went sailing. Tricia came by earlier today with a lovely bottle of Saltspring dessert wine (putting it away for a celebration somewhere along the way!) and then found me a really useful hand pump for liquids transfer that I'd been wanting for some time.
Warren has taken all five 10lb propane tanks for filling or topping up - an essential job in view of my being at sea for so long. Cold supper tonight!
Still fighting to get some items delivered by UPS in good time before Monday's departure - one item has dodged between B.C. and Washington State several times and is
still showing no sign of being delivered in time - incredibly frustrating since not only does it need to be fixed in place but then it needs to be tested and used to make sure the software it uses is all up to date and I can work it OK.
It's very pleasant being on the Causeway Dock in the middle of Victoria - weather has been very sunny and there's quite a 'buzz' of activity, with the terminal for the little harbour taxi boats close by and Prince of Whales whale-watching boats in and out all day long. A pity I have to keep so busy working!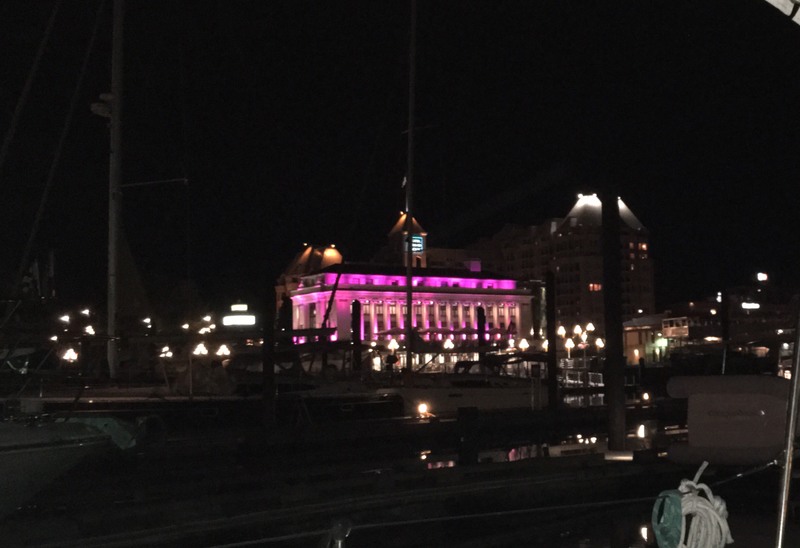 --